6,000 daily queries in 4 languages: Air India's AI virtual agent Maharaja redefines aviation customer service
Air India pioneers the aviation industry with the deployment of 'Maharaja,' the world's first generative AI virtual agent, revolutionizing customer service by answering queries across multiple languages and topics with impressive efficiency and automatic escalation features.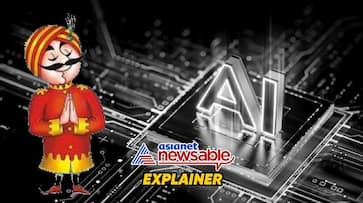 In a groundbreaking leap into the future of air travel, Air India has emerged as a trailblazer by introducing 'Maharaja,' the world's first AI-driven virtual agent. This innovative move signals a paradigm shift in the aviation industry, where cutting-edge technology meets customer service in a seamless and efficient manner. Launched as a pilot project in March 2023, Maharaja is not just a virtual assistant; it's a game-changer.
Also read: 90 minutes trip slashed to 7! How e-air taxis, coming to India by 2026, could revolutionise urban mobility
Key Features:
1. Powered by Azure OpenAI Service: Powered by Azure OpenAI Service, this virtual agent has already handled over half a million customer queries, showcasing its prowess in transforming the passenger experience.
2. Multilingual Support: Air India's Maharaja breaks barriers with its multilingual capabilities. Fluent in Hindi, English, French, and German, the virtual agent caters to a diverse global clientele. This linguistic flexibility ensures that passengers can communicate and receive assistance in their preferred language, enhancing the airline's commitment to inclusivity.
3. Extensive Query Handling: Maharaja isn't just a conversationalist; it's a knowledgeable companion. With the ability to address queries spanning 1,300 topics, from flight status to baggage allowances, refunds, and more, the virtual agent becomes a one-stop solution for passengers seeking information. This extensive knowledge base positions Air India at the forefront of customer-centric service in the aviation sector.
4. Impressive Response Rate: Air India officials report an impressive 80 percent success rate, with Maharaja swiftly handling over 6,000 daily queries. In instances where additional assistance is required, the virtual agent intelligently recognizes the need and seamlessly directs passengers to human contact center agents. This amalgamation of rapid response and automatic escalation streamlines customer interactions, offering a harmonious blend of technology and human touch.
5. Automatic Escalation: Recognizing that 15 percent of queries require additional assistance, Maharaja is designed to automatically identify such instances and smoothly redirect them to Air India's contact center agents for more personalized support.
Technology Behind Maharaja 
In a statement, Dr. Satya Ramaswamy, Chief Technology Officer at Air India, highlighted the integration of patent-pending innovations. Maharaja leverages a combination of traditional machine learning techniques and the latest in Generative AI, offering a pleasing and effective customer experience.
"We are dedicated to providing the best possible service and experience to our valued guests across channels. We also want to be very responsive to their changing preferences. After the emergence of Large Language Model-driven generative AI capabilities, we are increasingly seeing a definitive shift in guest preferences to use chat interactions to get the information and support they need quickly and directly as compared to browsing several web pages," he said.
Also read: US-India strike deal to co-produce Stryker: Deciphering the armoured vehicle's potential in countering China
Future Innovations
Dr. Ramaswamy expressed Air India's commitment to continuous improvement, emphasizing that more innovations are in the pipeline. The airline aims to stay responsive to evolving customer preferences, particularly the increasing inclination toward chat interactions for quick and direct access to information.
"We have used several patent-pending innovations in our AI agent Maharaja with a combination of traditional machine learning techniques and the latest in Generative AI to provide a pleasing and effective experience for our customers. Many more innovations are in the pipeline and will be made live in the months to come," he added.
Industry Recognition 
Microsoft, a key partner in this endeavor, expressed satisfaction with Air India's successful deployment of Maharaja. Marco Casalaina, Vice President of AI Platform at Microsoft, sees this as the beginning of a new era in customer service. He anticipates more organizations harnessing the power of Generative AI and Microsoft's AI-optimized Azure cloud to deliver seamless and efficient customer experiences.
"We are pleased to see Air India's successful deployment of their AI-powered agent, Maharaja, and the use of Microsoft Azure OpenAI Service to provide a personalized and relevant customer experience. We believe that this is the beginning of a new era of customer serivce and we look forward to seeing more organisations use the power of Generative AI and our AI-optimized Azure cloud to provide a seamless and efficient customer experience," Casalaina said.
Air India's Maharaja marks a significant milestone in the aviation sector, showcasing the potential of AI to revolutionize customer service. As Air India continues to refine and expand Maharaja's capabilities, the airline stands as a beacon of innovation in the aviation sector. Maharaja is not merely a virtual assistant; it's a testament to the transformative impact of advanced technology on elevating the passenger experience. The skies have become a testing ground for the future of customer service, with Maharaja leading the way into a new era of intelligent and efficient aviation.
Last Updated Nov 11, 2023, 11:03 AM IST