Decoding the role of ChatGPT algorithm in deepfake creation: Techniques, risks and countermeasures
On Friday, PM Narendra Modi highlighted the concern of artificial intelligence misuse, specifically focusing on the creation of "deepfakes". He also revealed that he has urged ChatGPT to develop a warning system that will identify and flag deepfakes.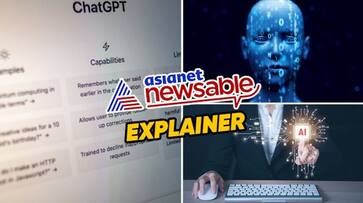 Prime Minister Narendra Modi on Friday addressed the concern of artificial intelligence misuse, specifically emphasizing the creation of "deepfakes." Speaking at the BJP's Diwali Milan event in Delhi, he highlighted the importance of responsible technology use in the era of Artificial Intelligence, citing instances where manipulated videos, including one of himself singing a Garba song, circulated online.
PM Modi also revealed that he has taken proactive steps to address this issue by instructing the ChatGPT team to identify and flag deepfakes. The aim is to provide a warning when such misleading videos are circulated on the internet, emphasizing the importance of combatting disinformation.
Also read: PM Modi says use of AI for creating deepfake 'problematic'; urges media to educate people
He stated, "Misuse of Artificial Intelligence in a society like ours, where even a movie can spark a controversy, is a concern for us. I met people of ChatGPT and told them that like how there is a warning that Smoking kills and it can cause cancer... people who want to smoke it's their choice, but there is a warning written... similarly users of ChatGPT and tools similar to that a deepfake warning must come for the user. After that if they want to enjoy the deepfake or not is upto the user, but a warning alert must appear."
This statement follows the recent emergence of deepfake videos featuring celebrities such as Rashmika Mandanna, Katrina Kaif and Kajol.
Deepfake videos, a product of advanced machine learning techniques, particularly utilize generative models like Generative Adversarial Networks (GANs) and deep neural networks. This process involves several key steps, from data gathering to post-processing, and may involve the incorporation of language models like ChatGPT.
Here's a look at how ChatGPT algorithm is used to make deepfake videos:
1. The creation of deepfakes involves employing machine learning techniques, specifically utilizing generative models such as Generative Adversarial Networks (GANs) and deep neural networks. The initial step includes compiling a substantial dataset of images or videos showcasing the individual whose appearance will be replicated in the deepfake.
2. Deepfake technology integrates rules and labeled data to deconstruct sentences. While these algorithms excel at understanding simple commands, akin to chatbots and voice assistants, they introduce a cybersecurity risk through their capacity for text analysis and sentence structuring, especially in actions involving inquiries like "what" and "when."
3. Generative models, such as GANs, play a pivotal role in the deepfake creation process. Comprising a generator and a discriminator, GANs operate on preprocessed data. The generator produces synthetic content, while the discriminator evaluates its realism.
Also read: Fact-Check: Trending video featuring Kajol changing clothes exposed as deepfake; read details
4. Once the model, including ChatGPT, is trained, it becomes proficient in generating deepfake content. For videos, the model may consider temporal aspects to imbue realistic facial expressions and movements. ChatGPT can contribute to the synthesis of speech, making the resulting deepfake videos more convincingly lifelike.
5. Deepfake videos or images often undergo post-processing to refine details, adjust lighting, and enhance realism. This step contributes to the overall believability of the generated content.
6. To address the emerging challenges associated with deepfake technology, it is imperative to develop tools for detecting such videos. Additionally, promoting AI literacy among the public is crucial. Establishing legal frameworks may also be necessary to regulate the use of deepfake technology and prevent potential misuse.
Rs 1 lakh penalty and 3 years of imprisonment
The Centre has advised victims to file a police complaint and utilize the remedies provided under the Information Technology rules. Last week, Union Minister Rajeev Chandrasekhar emphasized that online platforms have a "legal obligation" to prevent the spread of misinformation.
"Remove any such content when reported within 36 hours of such reporting and ensure expeditious action, well within the timeframes stipulated under the IT Rules 2021, and disable access to the content or information," the statement said.
The minister added that the government takes the safety and trust of citizens "very very seriously, and more so about our children and women who are targeted by such content".
Highlighting the seriousness of the issue, the Centre has stated that the creation and circulation of deepfakes come with a strong penalty, including a Rs 1 lakh fine and three years of imprisonment.
Last Updated Nov 17, 2023, 8:11 PM IST