Watch: A cute dog interrupts India vs England Test
A dog interrupted India vs England Test at Vizag on Thursday.
He became a celebrity in no time as somebody mad e its profile on Twitter.
Due to the dog, the teams were forced to take an early.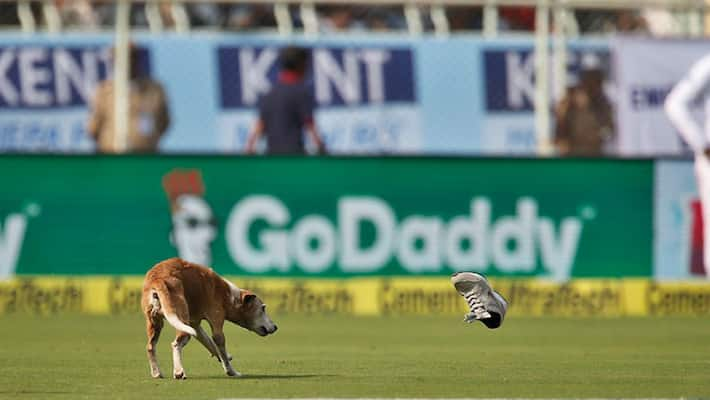 The dog came in the outfield just when Virat Kohli and Cheteshwara Pujara were in their 90s and looked to reach the triple digits in no time. England surely were glad that the dog stopped the flow or runs, that happened with ease.
AHAHAHAHAHAHAHAHAHAHA.

FUCK OFF LADS. pic.twitter.com/BipC4JDOVm

— Ste A. (@sarm0161) November 17, 2016
A few ground officials were seen shooing away the dog with one of them scaring the creature with a shoe.
WATCH: These 10 Test moments of Kohli are priceless
Source: Twitter
Although the Indian duo scored their respective hundreds, the dog eventually became the celebrity of the day.
The craziness went to another level on social media when somebody made a profile of the dog on Twitter with a description, " Love cricket, hate Indian batsmen getting to 100 before Tea. Woof!."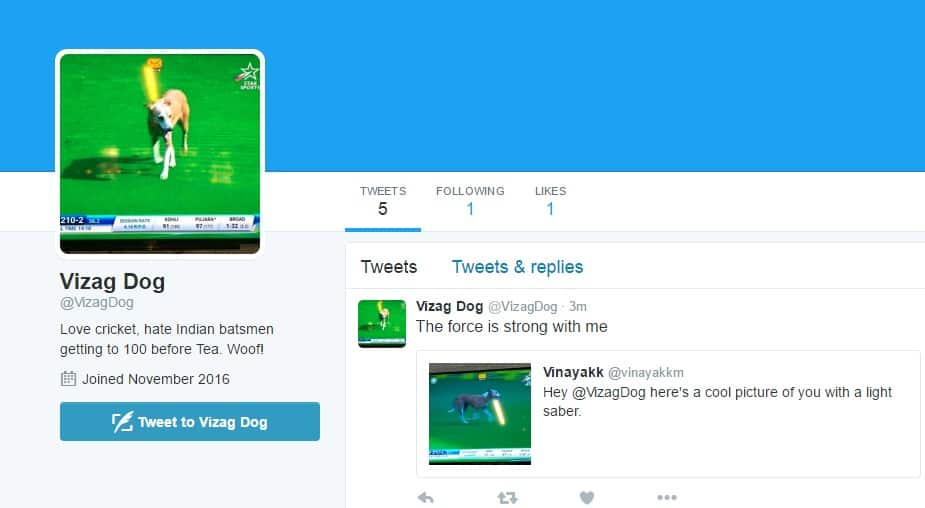 Winning the toss, India chose to bat first. After the English pair of James Anderson and Stuart Broad had removed the Indian openers, KL Rahul and Murali Vijay, early the charge was taken by Pujara and Kohli.
While Pujara scored his third consecutive Test ton, the Indian Test skipper brought up his 14th Test ton in his 50thy appearance for India in the whites.
Last Updated Mar 31, 2018, 6:53 PM IST