When a fan left Virat Kohli embarrassed..
The incident happened during the World T20 2016.
Kohli at present is in Mohali for the third Test against England.
India beat England by 246 runs in the Vizag Test.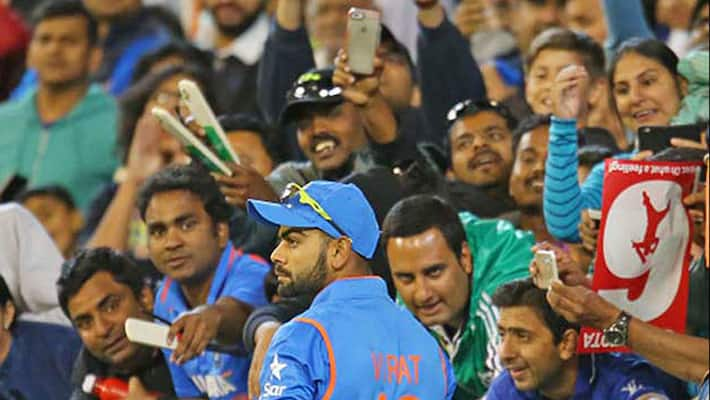 He has a huge fan base on social media, who follows every move of the Indian Test skipper. The Delhi cricketer has admitted that initially he had struggled to fight the paparazzi but now he has accepted to live with it.
Read more: Virat Kohli shoots up to career best Test ranking!
There is a security vehicle in front of his car when he goes out; he has to ask the hotel in advance to book a corner people with extremely fewer people around and more importantly, keep his calm when people touch him and "try to feel if he is real or not."
Meanwhile, in overseas, he goes for long walks with headphones on as he is aware he will not he grabbed unnecessary on the road. It's not that he will not be recognised there, the fans there tend just to wave and walk off.
Read more: 16 and counting: Kohli's India remains unbeaten at home!
"So when you go to play Australia or South Africa I usually do not make plans with anyone. I just walk around to get a feel of what it is like to just walk down the street. I just put my music on, walk and go nowhere in particular. It is the best thing in the world to be able to spend some time alone with myself," Kohli said in an interview with former English cricketer Michael Vaughan for Telegraph.
He went on to share when he was embarrassed because of a fan's reaction when the boy met the skipper outside the Mohali stadium.
WATCH: These 10 Test moments of Kohli are priceless
It was the ICC World T20 2016 quarter-final against Australia earlier in March. India won the match, courtesy of Kohli's unbeaten 82.
"I came out of security in the airport, and there was this one guy who came up to me. I told security to calm down. He stood next to me and said 'show me your hands'. I held them out and he touched them, and it was as if a flow of current went through his body. I said 'bloody hell'. I was so embarrassed. I think he thought I was Superman or something," 28-year-old revealed.
Last Updated Mar 31, 2018, 6:40 PM IST