Messi scored once and assisted twice in Argentina's 3-0 win against Colombia.
Argentina now stands fifth in the South American group in World Cup 2018 qualifiers.
This was Messi's first game for Argentina after returning from an injury.
After going winless for four consecutive games in the ongoing FIFA World Cup 2018 qualifiers, Argentina finally registered a win, keeping their hopes alive.
Read more: Ballon d'Or 2016: Messi, Ronaldo or finally a new winner?
Once again, courtesy of the striker's goal and two assists, the South Americans were able to notch three crucial points. With 19 points from 12 games, Argentina are placed fifth, behind the likes of Brazil, Uruguay, Ecuador and Chile.
Watch the 500th genius moment of Leo Messi
Messi took less than 10 minutes to put Argentina 1-0 up in their contest against Colombia on Tuesday. His stunning free-kick landed on the top right corner in the ninth minute of the first half before he set up goals for Lucas Pratto and Angel di Maria in the latter half.
Here are the highlights of Messi's magic on Tuesday night:
Only the top four of the group will receive a direct entry into the main draw of the FIFA World Cup 2018, while the fifth side will compete in the inter-confederation playoffs.
Argentina had begun their qualifying campaign without the services of Messi, who had then announced his international retirement following the missed penalty during the final of Copa America 2016.
Messi returned to the international stage with a bang when he scored in Argentina's 1-0 victory against Uruguay. Just when his side had thought they would get back to the track, Messi suffered a groin injury during his duty with Barcelona in a La Liga fixture.
So far in the qualifiers, whenever the FC Barcelona star, Messi, has netted a goal, Argentina eventually triumphed in that particular game. Out of the 12 matches, Argentina have lost three, won five and drew four matches.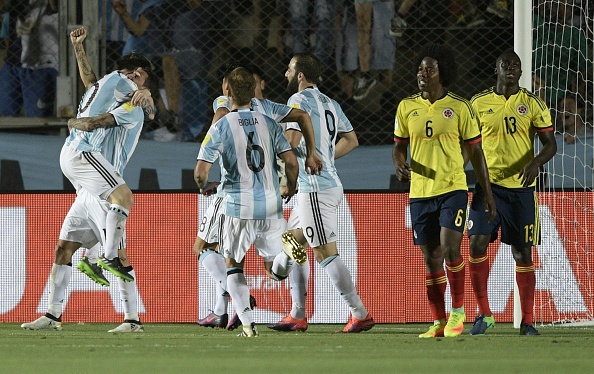 Argentina celebrate after Messi scores the free kick. Source: Getty Images
Apart from the victories where Messi scored at least one goal, he did fail to do the same in the other matches and hence the result did not go Argentina's way.
(What if Messi had decided to never return to international football ever? How hard would that hurt the Argentine side?)
Argentina's all-time goal scorer with 56 goals in 115 games, Messi, has been the lifeline for his nation. With six more matches left in the qualifiers, Argentina will hope Messi's magic continues to shine for them.