This is why F1 champion Nico Rosberg quit!
Nico clinched his maiden 1 title recently with Mercedes Petronas.
Just five days after the win, he announced retirement from F1.
He competed in 206 races - won 23 with 57 podium finishes.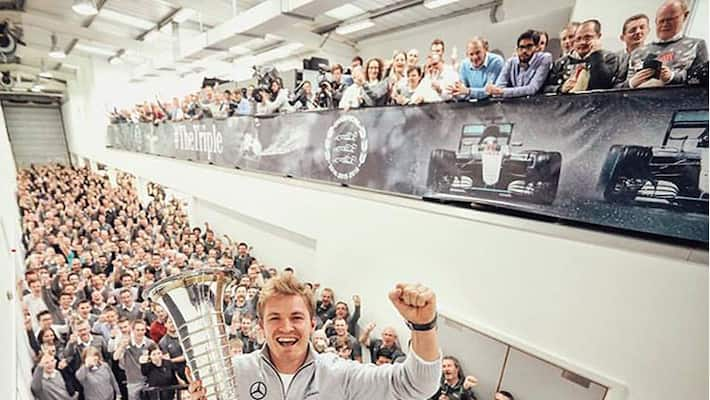 The reigning F1 champion, Nico Rosberg, shocked the F1 fraternity and fans on Friday when he announced retirement with immediate effect.
The announcement came just five days after he fulfilled his childhood dream - won his maiden F1 title.
Source: Nico's Fb page
"Since 25 years in racing, it has been my dream, my 'one thing' to become Formula One World Champion. Through the hard work, the pain, the sacrifices, this has been my target. And now I've made it. I have climbed my mountain, I am on the peak, so this feels right," Rosberg said on his Facebook page.
He revealed that he had already decided of ending his career if he won the championship this year.
After a neck to neck battle with Mercedes Petronas teammate, Lewis Hamilton, Rosberg edged the defending champion by five points. Here are 9  facts that you must know about the reigning champion and former F1 driver, Nico Rosberg!
Second reigning champion to retire:
Alain Prost was the first driver to retire after winning a championship. He called it quits following his fourth title win in 1993.
Second father-son F1 champions:
Keke and Nico Rosberg. Source: Getty Images
Nico is the son of the former F1 champion, Keke Rosberg who had won the title in 1982. They became the second father-son F1 champions after Graham Hill and Damon Hill.
The 1996 champion, Damon was the son of the double champion, Graham Hill.
Dual nationality:
Nico has raced under both flags - German and Finnish - however, he eventually chose Germany's nationality as the FIA does not allow a racer to drive under two flags.
Source: Getty Images
The 31-year-old speaks French, Italian, German, English and Spanish fluently. His father deliberately chose not to teach him Finnish, concentrating on those languages which would be more important for his son's racing career.
Like father, like son:
Nico made his F1 debut as Williams driver in 2006, the same team with which his father, Keke, had won the championship.
Why car No. 6?
Nico celebrating with wife Vivian. Source: Getty Images
During the 2014 season, the FIA introduced a new rule where a driver could pick a unique car number to use throughout their entire F1 career. Nico chose No. 6 as it was his wife, Vivian and father Keke's lucky number.
Childhood friends fulfil their dreams after 17 years:
Hamilton and Nico began their karting career as teammates as teammates. The British racer shared a picture of the two holidaying in Greece where the duo had talked about winning a F1 title some day.
Source: Nico's Fb page
It took 17 years for that dream to come true.
If he would not become a F1 driver?
The love for cars would have ensured he would be connected to F1. He had revealed in an interview that if he weren't a F1 driver, he would be working in the wind tunnel at Williams.
Nico and acrophobia:
Formula One is considered among the dangerous sports, and the drivers are well aware of the fact that their life will be in danger whenever they sit on the driver's seat and take off.
Nico, who is not scared when death might be at any corner while zooming in a F1 car, the chocolate boy looks driver suffers from irrational fear of heights.
Schumacher connection:
Source: Getty Images
Nico began his journey with Mercedes Petronas, his eventual title-winning team, by partnering F1 legend, Michael Schumacher in 2010.
Last Updated Mar 31, 2022, 2:59 PM IST