This is what Rahul Dravid has to say to Ramachandra Guha for dragging his name
Dravid expressed his discontent at the manner his name was brought into the public talk.
He now has written to the BCCI CEO requesting a clarification.
Ramachandra Guha had written a scathing letter to BCCI.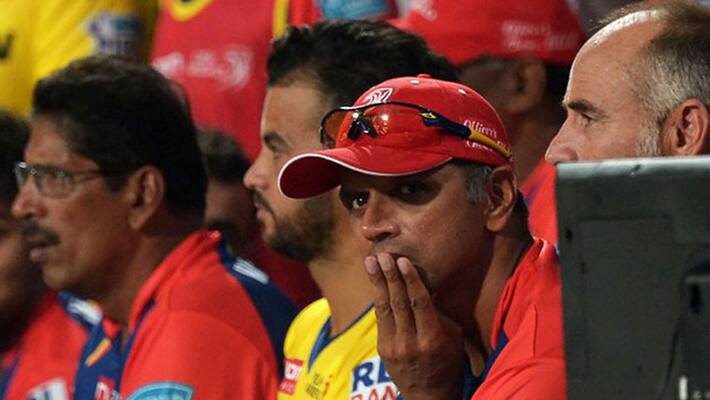 Former India captain Rahul Dravid has taken a firm stand against Ramchandra Guha's letter to the BCCI interim Chairman, Vinod Rai.  The Committee of Administer (CoA) member without naming Dravid apparently said that it was contradictory to the spirit of the Lodha committee that the Indian team's coaches and support staff be involved in the IPL.
Dravid expressed his discontent at the manner his name was brought into public talk without examining the details of his contract.  Dravid later filed his response with the BCCI seeking clarity in Guha's 'conflict of interest' allegation, that whether him working as the coach of India 'A' and Under '19' cricket team for 10 months in a year and being a mentor for the Delhi Daredevil squad in the Indian Premier League is in any way hampering the line of the conflict of interest issue.
Speaking to ESPNCricinfo Dravid said, "Yes, I have written to the CoA explaining my position and explaining the background of which this perceived conflict of interest has happened. By the BCCI's conflict of interest rules, I was absolutely not under a conflict of interest. If the rules have changed midway through the contract, then I think it is unfair to criticise me for breaking the rules or twisting the rules to suit my convenience," 
"My simple point is that, not only me but there are five or six of us who are in the same position. There needs to be clarity. If there is clarity, we will be in a position to take an informed decision. It is disappointing the way this got played out in the public without much understanding of the background."
Besides Dravid quite a few other coaches and support staff under BCCI contract, too have similar agreements including team India's fielding coach R Sridhar and physio Patrick Farhat in the IPL as both of them are a part of the Kings XI Punjab squad, whereas the chief physio of the National Cricket Academy (NCA) Andrew Leipus works with the Kolkata Knight Riders squad.
Dravid is at present negotiating a new contract with the CoA, and the CoA is likely to come up with an improved structure in order to sort the conflict of interest issue for coaches and support staffs.
Rahul Dravid's displeasure is logical and a cricketer of his status should not be pulled into such disputes that are not an outcome of his conducts
Last Updated Mar 31, 2018, 6:43 PM IST