Tenpin Bowling: Akaash and Sabeena crowned national champions in Bengaluru
Akaash Ashok Kumar finished at the top position after 32 games, followed by Dhruv Sarda, Prathyek Satya and Kishan in second, third and fourth positions respectively and qualified for the stepladder round at the National Tenpin Bowling Championships in Bengaluru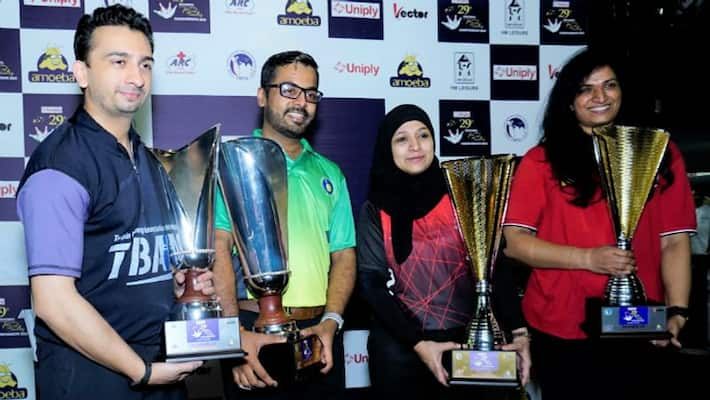 Bengaluru: Akaash Ashok Kumar of Karnataka and Tamil Nadu's Sabeena Athica won the titles at the Uniply 29th National Tenpin Bowling Championships, which concluded at Amoeba, Church Street, in Bengaluru on Saturday evening (February 9).
In the men's category, Akaash won his maiden national title defeating the second seed Dhruv Sarda of Delhi (413 – 372) by 41 pins. In the women's section, the top seed Sabeena won her 10th national title defeating Sumathi Nallabantu of Telangana (378 –266) by 112 pins.
Earlier in the day, in the stepladder round, played based on cumulative pinfall of two games, in Match 1 of the men's category, third placed Prathyek Satya (Karnataka) lost to the fourth placed Kishan R (Karnataka) (426 – 377) by 49 pins.
In Match 2, Dhurv Sarda (Delhi) beat Kishan (438 – 406) by 32 pins. Dhruv was leading by a narrow margin of six pins (210 – 204) at the end of Game 1 and he scored to 228 in game 2 as against 202 of Kishan to gain a lead of 36 pins and moved into the final.
In Match 1 of the stepladder round of the women's category, the second placed Sumathi comfortably beat defending champion Anukriti Bishnoi of Haryana (355 - 317) by 38 pins to enter the title round against Sabeena.
Akaash (6608 pinfall and 206.50 average) finished at the top position after 32 games, followed by Dhruv (6554 pinfall and 204.81 average), Prathyek Satya of Karnataka (6547 pinfall and 204.59 average) and Kishan (6479 pinfall and 202.47 average) in second, third and fourth positions respectively and qualified for the stepladder round.
Defending champion Shabbir Dhankot (Tamil Nadu) missed the cut by four pins and finished in fifth position.
Sabeena finished at the top spot (3842 pins at 192.10 average) after 20 games after Round 2, followed by Sumathi (3503 pinfall and 175.15 average) and Anukriti (3442 pinfall and 172.10 average) at second and third spots respectively.
The highlight of the day was two perfect games (300) on the same day by Kishan and Dhruv. Kishan is the first bowler to score perfect game in the history of this Championships and he was then followed by Dhruv.
Last Updated Feb 10, 2019, 12:25 PM IST