Sangram Singh has won a number of accolades in the world of wrestling. He is also a two-time Commonwealth Heavyweight Champion, besides winning the World's Best Professional Wrestler award. The Tokyo Olympics is slated to be held in 2021, after being postponed from 2020.
The Indian wrestling community is fast growing since the past few years. Moreover, an influx of medals by some Indian wrestlers in competitive global tournaments has taken the expectation levels of wrestling fans higher, as they contemplate even more medal wins in the upcoming Tokyo Olympics.
So far, four wrestlers from India have qualified for the global event next year. The likes of Ravi Kumar Dahiya, Bajrang Punia, Deepak Punia and Vinesh Phogat are the ones competing at the event.
Meanwhile, Indian professional wrestler Sangram Singh feels that India has a good chance of winning it all next year. Speaking exclusively to Asianet Newsable, Sangram said that he was confident of India getting at least three medals at the event.
"The Indian wrestling is in a brilliant position right now, as I expect at least three medals in the upcoming Tokyo Olympics. All the four wrestlers, who have qualified so far, are one of the greatest-ever prospects for the event and have great chances of bagging a medal," said Sangram.
"Other wrestlers, who can manage to qualify, too, have an equal chance of grabbing a medal. It cannot be said that a particular wrestler, who has qualified, has no chance of winning it. Last time, when Sakshi Malik qualified, no one expected it form her. However, she amazed everyone with her performance," added Sangram.
Ever since Sushil Kumar and Yogeshwar Dutt stunned the world with their dominating performance in the sport a few years back, the Indian wrestling has reached a different level altogether. On the same note, Sangram feels that while the modern-day facilities, provided to the wrestlers, have played an important role, there is still room for improvement in the technical front.
ALSO READ: Former Indian football captain Carlton Chapman passes away at 49
"Nowadays, the facilities that the Indian wrestlers get are extraordinary, as compared to the old days. However, the technical area is something where they can still improve. They need to build more stamina and power. They need to learn it from overseas players, spend time in the gym on weightlifting training and learn other different techniques, which could certainly be useful at the global stage," Sangram continued.
"There is also room for mental/psychological development, and they would need a world-class coach for that. If the psychological strength kicks in at its best, any top wrestler in the world can be beaten by these Indian wrestlers," Sangram further noted.
Sangram also told the upcoming youth wrestlers to focus more on their technique and work, rather than thinking or pondering over an issue. He feels that if anyone is entirely focused on reaching the top, he/she would be unstoppable.
"Stay focused and stay determined. You will only face issues if you divert from that. Stay focussed on building your career and fulfilling your, as well as your parents' dreams. Don't lose your will. Also, if you ever get rejected anywhere, take it as a motivation to bounce back stronger," Sangram asserted.
Being a professional wrestler, Sangram has also won the Commonwealth Heavyweight Championship on two occasions. On the same note, he was asked if he ever wants to become a full-time pro-wrestler, especially with World Wrestling Entertainment (WWE), and here's what he had to say.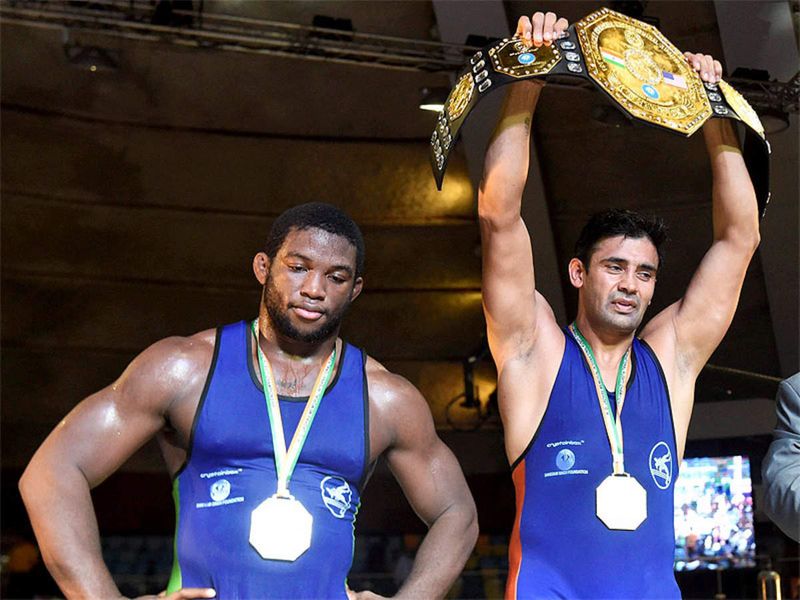 "I'm a huge fan of WWE, as I have also done many shows based on the same. Although it is different from normal wrestling or Mixed Martial Arts (MMA), it still has its charm and beauty. While I have wrestled as a professional wrestler, I don't have enough time to become pursue it full-time with WWE," Sangram stated.
"My focus is now on training children and inspire them to take it up wrestling seriously, whether as a free-style wrestler or pro-wrestler. I would continue to do pro-wrestling occasionally since it has its share of fun. I would also like to appear on analysis shows based on wrestling. I play the sport, not for wins or losses, but because I love it. And, I would continue to do so, as long as I enjoy it," he concluded.