Pro-Kabaddi: No Kannadiga players retained in Bengaluru Bulls squad
The Bengaluru Bulls squad has chosen not to retain any of the Kannadiga players ahead of this year's auction. The team has also let go of coach BC Ramesh. However, only three players have been retained in the Bengaluru Bulls squad.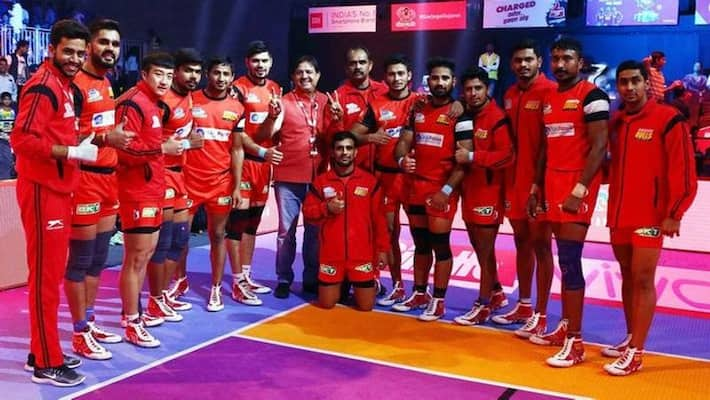 Bengaluru: Pro-Kabaddi is entering its seventh season, this year. The auction for the same will start in 20 days. The teams have prepared the list of the players it wants on their respective squads. But surprisingly, Bengaluru Bulls, after letting go of coach BC Ramesh to Bengal Warriors, has excluded the names of Kannadiga players who played a crucial role in winning the championship.
Currently, Nithesh BR, Jawahar Vivek, Harish Naik and Anand V are also not listed in the Bengaluru Bulls team. However, the latest reports say only three players have been retained by the Bulls.
The Bulls team has retained captain Rohith Kumar, Pawan Sherawat and all-rounder Ashish Sangwan. According to the document obtained by Kannada Prabha daily, the three will stay in the team for this season that will begin in four months.
According to the documents, a team has a maximum of Rs 4 crore to spend on the players. Bengaluru Bulls have already spent Rs 2 crore on retaining star players. Defenders Mahender Singh, Amit Sheoran, Kashiling Adake and raider Sumith Singh had also played a vital role in Bulls winning the title, but the team has not retained them either.
However, on the other hand, new notable players from Karnataka, Prashanth Rai, Sukesh Hegde, J Darshan, Sachin Vittala and 24 others are trying their luck in the current season of the Pro-Kabaddi auction.
Last Updated Mar 25, 2019, 6:56 PM IST