National Games 2023 will further sportsmanship and unity, says PM Modi ahead of inauguration in Goa
Indian Prime Minister Narendra Modi is set to inaugurate the 37th National Games in Goa, marking a significant event in the nation's sports calendar with diverse participation and gender inclusivity, while promoting the motto "Get Set Goa."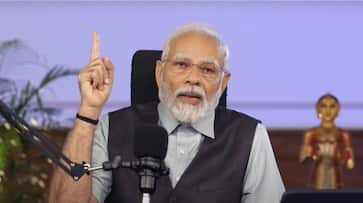 Prime Minister Narendra Modi will on Thursday officially inaugurate the 37th National Games at the Pandit Jawaharlal Nehru stadium in Fatorda, South Goa. The event will be attended by several prominent figures including Goa Chief Minister Pramod Sawant, Youth Affairs and Sports Minister Anurag Singh Thakur, Goa Sports Minister Govind Gaude, and Minister of State for Tourism Shripad Naik.
The 37th National Games mark a significant milestone as they are being held in Goa for the first time. Athletes from 28 states will participate in over 43 different sports disciplines, making it a truly diverse and inclusive sporting extravaganza. These games will serve as a unifying platform for over 10,000 athletes from across the country, with nearly half of them being women, highlighting the growing participation of women in sports. This event not only showcases the sporting prowess of India but also promotes gender equality and inclusivity in the realm of sports.
WATCH: Drone show as part of rehearsal for the inauguration of the 37th National Games
Ahead of the inauguration, PM Modi expressed his enthusiasm for inaugurating the 37th National Games in Goa on October 26. "Today evening, I will be in Goa to inaugurate the 37th National Games. These games will further sportsmanship and unity, bringing together athletes from across the nation. I am confident the games will celebrate talent, hard work and the love for sports!" wrote PM Modi on X.
Goa, renowned for its picturesque landscapes and vibrant culture, provides the perfect backdrop for this sporting extravaganza. The state is no stranger to hosting significant events, and this time, it welcomes athletes from all corners of India to participate in various sporting disciplines.
Event Schedule: The 37th National Games of India are set to take place in Goa, with the event scheduled to run from October 26 to November 9.
Venues: This prestigious event will be hosted across five Goan cities: Mapusa, Margao, Panjim, Ponda, and Vasco, utilizing 28 venues. Notably, this marks the first occasion that the National Games will be held in Goa. Golf and cycling events will be conducted in New Delhi.
Sports and Disciplines: The 37th National Games will introduce several sports disciplines making their medal debut, including beach football, roll ball, golf, sepak takraw, sqay martial arts, kalliya rapattu, and pencak silat. Additionally, various sports such as Kho, yogasana, and mallakhamb will make their debut on the National Games stage. Taekwondo and yachting games are set to make a return this year after being excluded from the previous edition. The event will also include demonstration sports like lagori and gatka. In total, the games will encompass a wide range of sports, including gymnastics, rowing, hockey, boxing, shooting, water polo, lawn tennis, snooker, handball, judo, table tennis, and many more.
Tickets and Access: For attendees, there is no requirement for tickets to access the various events. Visitors can gain entry to the venues with any government-issued and verified ID.
Motto: The motto for the 37th National Games of India is "Get Set Goa," reminiscent of the catchphrase used in the first National Games of India in 1924, which was "Get Set Play."
Live Streaming and Broadcast: To catch all the action, the 37th National Games can be live-streamed on the Prasar Bharati YouTube channel. The event will also be broadcasted on the DD Sports TV channel on all days.
Last Updated Oct 26, 2023, 12:26 PM IST