Meet Ishan Pandita: First Indian footballer to sign a La Liga contract
Ishan Pandita signed a year's contract with the Spanish club, Deportivo Leganes.
By doing so, he became the first Indian to sign a contract with a Spanish club.
The club currently ranks 11th in the ongoing season of La Liga.
Ishan took a sabbatical three years ago and moves to Spain to pursue his dream of becoming a professional footballer.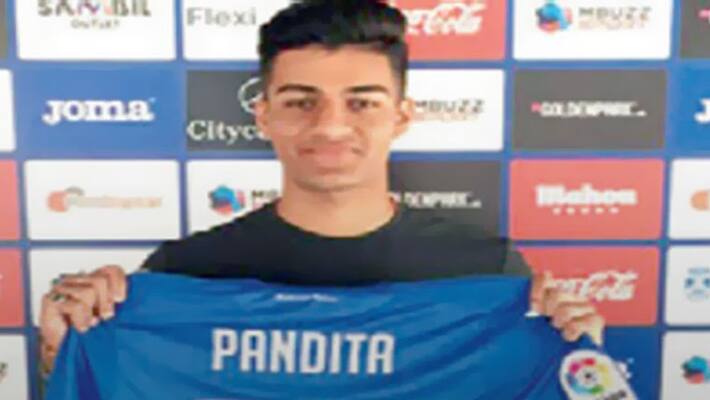 Ishan became the first Indian to earn a contract with a Spanish football club when he inked a year's deal with Deportivo Leganes on Monday at the Estadio Municipal de Butarque stadium in Leganes.
Deportivo ranks 11th at present in the ongoing season of the Spanish League, La Liga.
The Bengaluru boy put his career at stake when he took a sabbatical from his education to pursue his dream of becoming a professional footballer in Europe.
Keeping in mind the Indian society his decision raised a lot of questions about how did his parents allow him to take that step.

The journey has not been easy, and it made him hard work of three years to convert his dream of playing in European football into reality.
"It's been a tough, hard three years here in Spain but at the end, it was all worth it. It feels great to be the first Indian to go down this path. Right from the moment I decided to take a break from studies till now, I never gave up on my dream," Ishan, who was given jersey No. 50 at Deportivo, told Times of India.
Although Ishan has signed for the main team, he will begin his union with Deportivo by playing for their Under-19 side.
In 2015, Ishan had joined the U-18 team of Spanish Segunda Division (second division) club UD Almeria for an eight-month stint. Since he hadn't turned 18 yet, he could not sign a professional contract.
Meanwhile, the club has been impressed with the young Indian talent so far. " What impressed us most about Ishan were his physical attributes and ability to score goals. It's too early to say when he will break into the main team -he is a young player, a rough diamond to be worked on," academy director Jorge Broto Benavente said.
Talking about the adapting the Spanish style of play, Ishan said, "It was a bit hard to adapt and play the Spanish way in my initial days here. But since all the training I got during my formative years was from British coaches in the Philippines, where I lived for a few years, the transition was smooth."
Ishan will bag his first game with the Spanish club once his registration is formalised by FIFA in the coming days.
Last Updated Mar 31, 2018, 6:39 PM IST