Hockey World Cup 2023: Miniature hockey stick, ball inside bottle crafted by Odisha-based artist
Hockey World Cup 2023 starts on Friday in Bhubaneshwar and Rourkela. Ahead of it, an Odisha-based artist has created a hockey stick out of a miniature and a ball inside a bottle sculpture.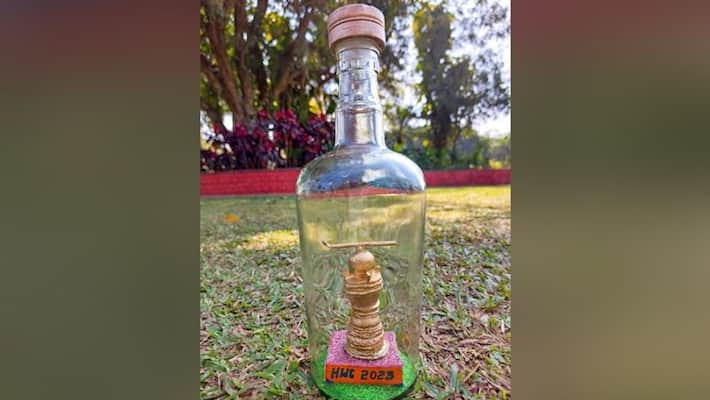 Odisha-based artist L Eshwar Rao has engraved a miniature hockey stick and ball and positioned it within a 750 ml bottle, wishing 'Best of Luck' to all the sides featuring in the 2023 FIH Hockey World Cup. The event will be held in Odisha's capital Bhubaneswar, and Rourkela between January 13-29. Hailing from Jatni in Khurda District, Rao swore it took him ten days to inscribe the striking sculpture on a pencil beak. Eshwar had previously formed a World Cup Hockey replication, placing it inside a 750 ml bottle. Rao utilised chalk, glass, and glitter paper to prepare the sculpture.
Rao declared that it took him eight days to construct the miniature model inside the bottle and a couple of days to intaglio the pencil sculptor. The pencil statue counts less than half an inch, proclaimed Rao. "The World Cup Hockey is being held for the second time in our state. It is a pride moment for all of us. Sixteen teams are participating in the event. I wanted to convey my best wishes to all teams through my art," Rao notified PTI.
ALSO READ: 'Great honour for me to play my fourth Hockey World Cup for India' - PR Sreejesh
Rao has been rehearsing this artwork for 25 years. His voyage as a miniature artist started in 1999 after gifting the Taj Mahal sculpted out of chalk to one of his teachers. "I had been practising miniature artwork since I was in Class 2. I gifted my miniature art to my teacher in Class 12. My teacher was so impressed by my work that he later introduced me to the then principal of B K College of Arts," Rao implied.
Rao later underwent an apprenticeship in stone carving for four years. In 2011, Rao initiated his foundation 'Eshwar Art and Craft Social Foundation', training students for free while persisting with his miniature craft.
(With inputs from PTI)
Last Updated Jan 11, 2023, 3:31 PM IST