At the end of third Test against New Zealand, Ashwin once again became World No. 1 in Test bowling.
Ashwin picked up 27 wickets during the three-Test series against the Kiwis.
Here is the list of records that Ashwin holds at present.
With every match, this player gets even better. He has got into the habit of breaking records after records, be it any team in the opposition.
Kane Williamson, who is New Zealand's current best batsmen was clueless against Ashwin in the recently concluded three-Test series. The BlackCaps skipper played two Tests, batting four times and became his victim on all the occasions.
Source: Twitter
But words aside, even the numbers give evidence to Ashwin rise as an incredible spinner who any team would dread to face. After all, courtesy of Ashwin's 27 wickets, the eventual 'Player of the Match', India successfully finished a clean sweep of New Zealand in the three-Test series.
In a total of 145.5 overs he bowled in the series, he made and broke numerous records in Tests. Here are a few stats that would promise Ashwin has a majestic future stored for himself and Team India:
Career-best rating:
After the third and final Test against New Zealand at Indore, Ashwin not only went ahead of James Anderson and Dale Steyn as World No. 1 Test bowler but also attained NINE-HUNDRED points - the most by an Indian bowler.
Ashwin became the 23rd bowler to touch the 900-mark. The other bowlers since 2000 who have entered the elite club are Muttiah Muralidaran, Glenn McGrath, Vernon Philander, Dale Steyn and Shaun Pollock.
Unbelievable dominance since Test debut:
Since Ashwin's debut in 2011, India have won eight Test series and the player who kicked off his career as an opening batsman was the 'Player of the Series' in seven of those wins.
Ashwin, who was yet again named the 'Player of the Match' at the end of the Indore Test, has now won seven 'Player of the Match' awards in 39 Tests.
He holds the record for the most 'Man of the Match' awards in Indian Test history and no other Indian has won more than three such awards since Ashwin's debut.
Overall, only Sri Lanka's Rangana Herath has notched up more Player of the match awards since Ashwin's Test debut. While Herath has eight awards in 41 Tests, Ashwin has one less but in 39 Tests.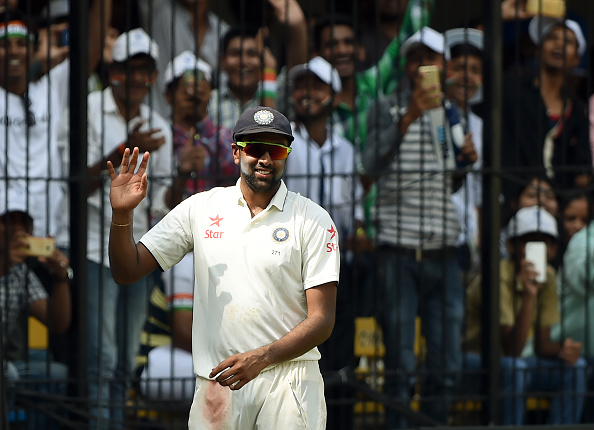 © Getty Images
Nearing to greatness of the Indian heroes:
Ashwin, who picked up 13 wickets at the Holkar Stadium in the third Test against the BlackCaps - helping India seal victory by 321 runs, bagged a 4th 12-wicket haul (39 Tests) - the most by an Indian bowler. Anil Kumble had three 12-wicket hauls (132 Tests) to his name.
The World No. 1 also became only the second India bowler to take two 10-wicket hauls in any Test series. Harbhajan Singh was the first in 2000-01 series against Australia.
A hundred and a 5-for in a Test:
Ashwin is the only Indian all-rounder to score a century and bag a five-for on two occasions. The other Indian players who have done this in one Test are Vinoo Mankad and Polly Umrigar.
| | | | | |
| --- | --- | --- | --- | --- |
| Player | Opponent | Runs | Bowling figures | Year |
| Vinoo Mankad | England | 184 |  5 for 196 | 1952 |
| Polly Umrigar | West Indies | 172* | 5 for 107 | 1962 |
| Ravi Ashwin | West Indies | 103 | 5 for 156 | 2011 |
| Ravi Ashwin | West Indies | 113 | 7 for 83 | 2016 |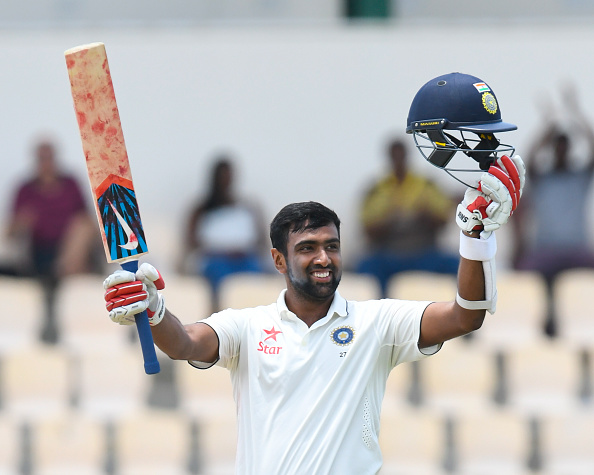 © Getty Images
Fastest India bowler to 20 or more five-wicket hauls:
| | |
| --- | --- |
| Player | No. of Tests |
| Ravi Ashwin | 39 |
| Harbhajan Singh | 59 |
| Anil Kumble | 75 |
| Kapil Dev | 98 |
In just 39 Tests, Ashwin has announced himself as a contender to become one of the greatest names in Indian cricket. New Zealand series was the opener of the long home Test season stored for India this season. England comes in next, can they survive Ashwin's vicious bowling?