Liverpool's Trent Alexander-Arnold narrowly avoids being crushed in his car by 40 feet electricity pylon
Liverpool star Trent Alexander-Arnold narrowly avoids a potentially fatal collision as a massive electricity pylon falls on the road during extreme weather, resulting in damaged vehicles but no injuries.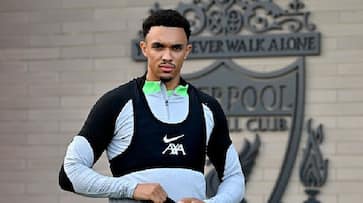 Liverpool star Trent Alexander-Arnold had a harrowing experience while driving on Friday when a 40ft electricity pylon crashed onto the road in front of him as he was behind the wheel of his Range Rover. The incident occurred during extreme 70mph winds in a wet rural area near Knutsford, Cheshire. The 25-year-old England footballer had to make a quick swerve to avoid the high-voltage power unit and, in the process, collided with a BMW X5.
It was a near miss for Alexander-Arnold, as the massive pylon came to rest on the road's bank. The heavy infrastructure could have caused severe damage had it fallen onto the footballer's luxury vehicle. Thankfully, both Alexander-Arnold and the BMW driver emerged from the incident unscathed, although the footballer was understandably shaken by the experience. Witnesses noted the shock that nobody had been killed in this countryside accident, which was caused by the devastating Storm Babet sweeping across the nation.
After colliding with the BMW, Alexander-Arnold immediately checked on the other driver to ensure their well-being. His Range Rover bore the brunt of the impact, with severe damage to the £90,000 black SUV, including a missing front-left bumper and a broken headlight. The collision had left electrical wires from the vehicle's bonnet exposed, and some parts of the car were barely hanging on as a result of the crash.
The white BMW also suffered significant damage, with a missing headlight in the middle of the road, the front-left wheel sitting on its rim, and a substantial crack in the bodywork. The local police were called to the scene on Friday morning, and they promptly turned off the electrical supply running through the fallen pylon.
Despite the scare, Alexander-Arnold continued with his professional duties and participated in team training with Liverpool, gearing up for the Merseyside derby clash against Everton at Anfield, where he was expected to be in the starting lineup.
Cheshire Police later issued a statement, stating, "At 10.34 am this morning, we were called to reports of a road traffic collision involving a black Range Rover and a BMW. An electricity pole had fallen into the road, causing the accident. Nobody was injured, and everything was cleared by 1.05 pm. We called the energy company and had the electricity turned off."
The incident is part of the broader devastation caused across the country by the effects of Storm Babet, which also led to a passenger plane skidding off the runway in Leeds.
Last Updated Oct 21, 2023, 11:29 AM IST