'Erik ten Hag has brought discipline to Man United, something we missed' - Bruno Fernandes
Manchester United is steadily progressing under Erik ten Hag despite a rocky start in the season's opening two matches. Meanwhile, Bruno Fernandes feels that the Dutchman has brought discipline to the club.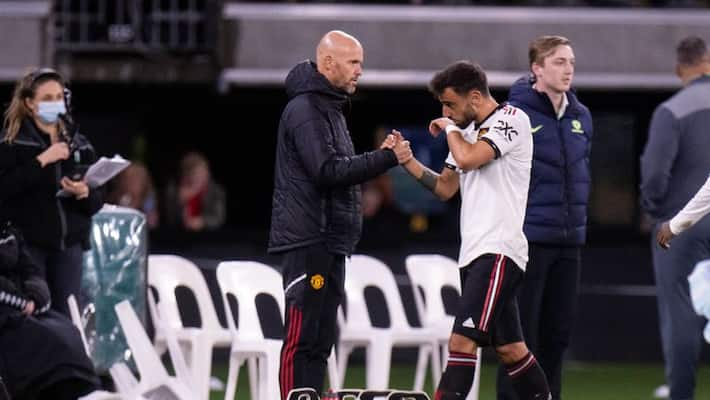 English giants Manchester United have been enduring failures since Sir Alex Ferguson quit after the 2013-13 season. It is yet to taste English Premier League (EPL) and UEFA Champions League (UCL) success in the post-Ferguson era. While four full-time head coaches have tried their best, all have failed to deliver the club the success mentioned earlier. Erik ten Hag has been bestowed with the duties now. Despite hiccups in an initial couple of games in the season, order seems to be finally being restored since then. Meanwhile, club midfielder Bruno Fernandes was all-praise for the Dutchman, who feels that the boss had brought discipline back to the club, which was lacking when the Portuguese arrived two seasons back.
In an interaction with The Athletic, Fernandes explained, "You have to follow his rules. He is strict on that. I like that. He has brought discipline, which I think we missed in the past. Everyone must be on the same page. Pep and Klopp have been doing that for years because they have stability in the club and how they choose the transfer market and build the team."
ALSO READ: 'TO PLAY WITH CRISTIANO RONALDO AS A NUMBER 10 IS ACTUALLY REALLY GOOD' - BRUNO FERNANDES
"I saw the manager say that we do not want to bring players just for the sake of it. We want to bring the right players for what we want to do. It is something the club needs. We still have a margin to improve, and he needs time to get the most out of us. I believe we will get to the point with him where we are established as a team, and everyone is on the same page," concluded Fernandes.
United has been on a winning streak in the last four EPL games, as it is placed fifth in the table after six matches, losing a couple and winning the remaining four. Also, it is off to a mixed start in the UEFA Europa League (UEL), winning a losing a contest each in the group stage, while it remains the favourite to see itself through to the next round.
Last Updated Sep 21, 2022, 11:16 AM IST