Asian Games 2023: India win bronze in women's hockey, beat defending champions Japan 2-1 - WATCH
The Indian women's hockey team secures a bronze medal at the Asian Games 2023 by defeating defending champions Japan 2-1, bouncing back from a disappointing semifinal loss.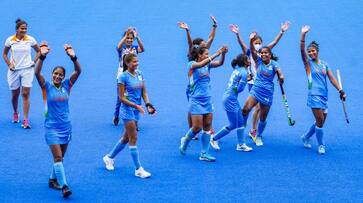 The Indian women's hockey team, initially considered favorites for the gold, rebounded from a shocking semifinal loss to secure a bronze medal at the Asian Games 2023 in Hangzhou, China, on Saturday. India claimed a 2-1 victory over defending champions Japan in a spirited performance.
Entering the tournament as the top contenders, the Indian women's hockey team had high hopes for gold. However, their aspirations were dashed when they suffered a significant setback in the semifinals, losing 4-0 to hosts China.
Despite the disappointment, the Indian women's team managed to avenge their 2018 Asian Games defeat to Japan by winning the bronze medal. Led by Savita Punia, the team displayed strong hockey skills and determination throughout the match.
The Indian team began the match aggressively and quickly took the lead in the fifth minute, with Deepika converting a penalty stroke. Japan responded with an equalizer in the 30th minute when Yuri Nagai successfully converted a penalty corner.
Sushila Chanu, not known for her goal-scoring prowess, proved crucial as she netted the winning goal for India in the 50th minute from a set piece.
India dominated the early moments of the game, earning a penalty stroke that Deepika expertly converted. The team continued to press but couldn't capitalize on a penalty corner opportunity. Japan posed a few threats, but Savita and her defense held firm.
The second quarter was marked by a midfield battle, with both teams managing some circle entries but failing to score.
Japan managed to level the score with Nagai's goal from a penalty corner just before halftime.
In the second half, both teams struggled to break the deadlock, engaging in a midfield tussle with occasional circle entries.
India's efforts finally paid off in the fourth quarter as they earned multiple penalty corners. Sushila capitalized on one such opportunity to secure the winning goal, using a well-placed scoop above the goalkeeper's head after a pass from Deep.
While India earned more penalty corners, they were unable to convert them. In the closing minutes, Deepika's flick from a penalty corner was saved by the Japanese goalkeeper.
Last Updated Oct 7, 2023, 4:13 PM IST