Red card penalty in cricket?
MCC have considered to include players send-offs for unacceptable behaviour on field.
If the law is approved, it will be applied from October 2017.
Here is a list of 7 cricketers that will show why red cards are important in cricket.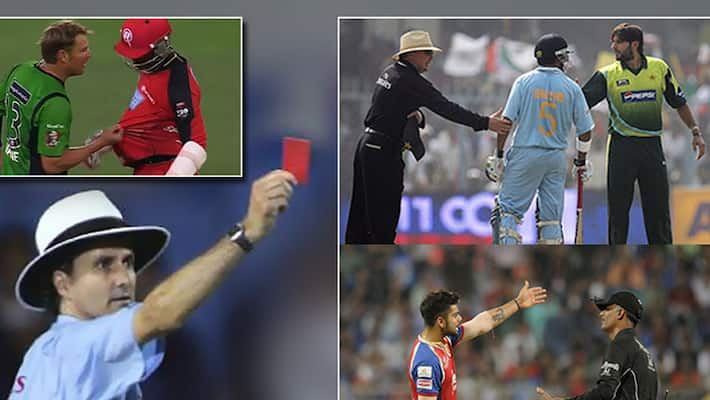 Unlike other sports like football and basketball, in cricket, disciplinary issues are not dealt during the match. The penalties are declared after the match. 
The MCC World Cricket Committee might have found a solution to that. The body conducted a meeting in Mumbai where they have decided to introduce the mechanism of "send-offs" even in cricket. This rule will be similar to the system of red cards in other sports.
The on-field umpires can remove a player from the field for the following: Threatening an umpire, physically assaulting another player, umpire, official or spectator and any other act of violence on the field of play.
If  the policy of 'red card' was applied a long time back in cricket, here is a list of cricketers who undoubtedly would have received it at least once by now:
Gautam Gambhir:
Gambhir's image of being an aggressive cricketer on-field does not go back to his spat with Virat Kohli in IPL 2013. An avid cricket fan can never forget the fight between Gambhir and Shahid Afridi during the 2005 series.
If you are good at lip reading, it will not take much of a time for you to discover that the heated exchange involved curse words in Hindi and Urdu.
Dennis Lillee:
The incident happened in Pakistan's tour of Australia 1981-82. During the Perth Test, while taking a single Pakistan's Javed Miandad collided with the Australian pacer. That led to an ugly brawl where Lillee tried to kick Miandad, and in reply, the visiting batsman almost threw his bat at Lillee.
Virat Kohli:
Watch: Kohli gets back at Stokes, shuts him up
Kohli, not only has been involved in heated exchanges with the opponents players; the Indian Test skipper has lost his cool against on-field umpires too. Kohli had abused umpire Sudhir Asnani while he walked back to the pavilion after being adjudged LBW during home series against West Indies in 2014.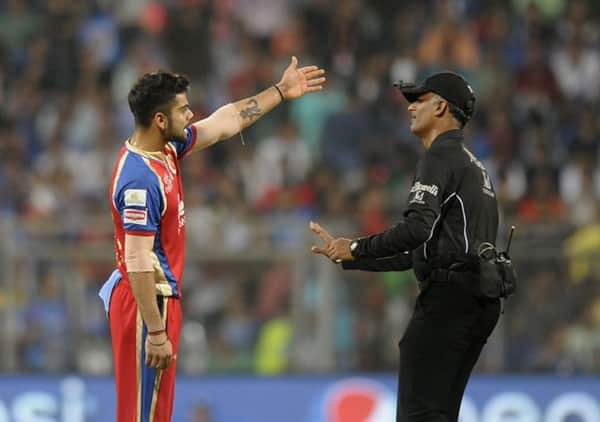 Kohli once was seen getting on umpire Kumar Dharmasena because the Sri Lankan did not stop the match due to a slight drizzle. The incident took place in IPL 2015. 
Shakib-Al-Hasan:
The former Bangladeshi skipper faced a one-match ban after he had foul-mouthed the on-field umpire. This happened during the Bangladesh Premier League 2015.
Marlon Samuels - Shane Warne:
During a Big Bash League match in 2013, Warne hit Samuels with the ball as he attempted to return it to the wicketkeeper. In return, Samuels threw his bat in the spinner's direction before an angry exchange at the MCG.
(Such incidents surely deserve a red card immediately!)
Bermuda cricketers:
Two Bermuda club cricketers, Jason Anderson and George O'Brien, got involved into the ugliest of fights in the history of cricket in 2015. Both the players began wrestling each other on the ground, and Anderson went as far as kicking the other player. As a result, Anderson eventually was handed a life ban. 
Last Updated Mar 31, 2018, 6:42 PM IST