10th Maruti Suzuki Dakshin Dare: Gaurav Gill takes lead on opening day
Gill began the first special stage on a slow note and got better as the day progressed to set the tone for the rest of the week. He, however, admitted that it was not easy driving out there and that the terrain posed a challenge initially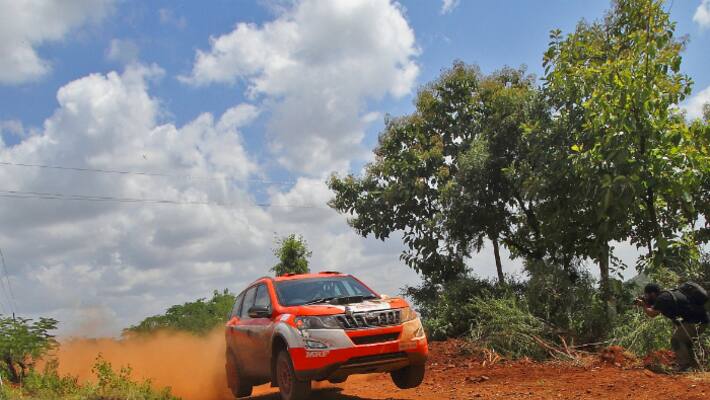 Davangere: India's ace rallyist Gaurav Gill came up with a powerful performance to race ahead of the pack on the opening day of the 10th edition of the Maruti Suzuki Dakshin Dare here on Monday (September 3).
The Mahindra Adventure driver, along with his trusted co-driver Musa Sherif, was fast and aggressive in all the three special stages of the day, finishing them in  2:25:47 minutes.
He was a good five minutes faster than his teammate Philippos Matthai (with navigator VVS Moorthy) who came in second after clocking 2:30:19 minutes.
Amittrajit Ghosh (with Ashwin Naik) stayed right behind his Mahindra Adventure teammates by clocking 2:30:24, just five seconds more than Philippos.
In the two-wheeler category, Yuva Kumar took the opening day's honours, with a time of 1:43:30. Vishwas SD finished the day second with 1:48:22 while Akash Aithal took the third position with a total time of 1:49:29.
The round one of Dakshin Dare saw the cars compete in three special stages (dirt/gravel) with a total distance of 129 km while the bikers covered a total distance of 86.42 kms for their two special stages.
Gill began the first special stage on a slow note and got better as the day progressed to set the tone for the rest of the week. He, however, admitted that it was not easy driving out there and that the terrain posed a challenge initially.
"We were not aware of the terrain and there was lot of gravel on the tracks. I usually scorch the track but here I had to be cautious and slide through the corners rather than coming in fast," Gill explained.
Defending champion Suresh Rana of Team Maruti Suzuki suffered an initial setback but showed great fighting spirit and verve to finish the day not too far behind the lead pack.
He picked up a puncture in SS1 itself which cost him seven minutes and put him behind while he seemed to be cruising ahead. He finished the day on fourth position to underline that he will be the one to beat over the next four days.
The 2,000-kilometre long Dakshin Dare will traverse through Karnataka and Maharashtra before concluding in Goa on the evening of seventh.
In the TSD category, Vinay Kumar and Ravi Kumar ended with the least penalty (00:01:47secs) to top the charts on day 1, while Srikanth and Raghuraman with penalty points of (00:01:53secs) finished second. Pramod Vig and Prakash M finished third with penalty points of 00:02:00secs.
Results
4WD - Above 1851cc
1. Gaurav Gill & Musa Sherif (Team Mahindra Adventure) -2:25:47, 2. Philippos Matthai & VVS Moorthy - 2:30:19, 3. Amittrajit Ghosh/Ashwin Naik (Team Mahindra Adventure) - 2:30:24
Bike
1. Yuva Kumar - 1:43:30, 2. Vishwas S D - 1:48:22, Akash Aital - 1:49:29
TSD
1. Vinay Kumar & Ravi Kumar (00:01:47secs), 2. Srikanth & Raghuraman (00:01:53secs), 3. Pramod Vig & Prakash M (00:02:00secs).
Last Updated Sep 4, 2018, 12:30 PM IST