Digital Vidya is reinventing Digital Marketing Education with their Digital Marketing Course in Bangalore
This opportunity combines quality and convenience, allowing locals to progress in their professions and keep a competitive edge in the quickly evolving industry of digital marketing.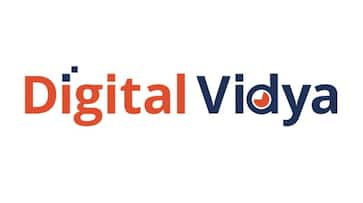 Digital Vidya, the leading professional training company in Asia, has announced intentions to expand the quantity of digital marketing online training sessions it provides in Bangalore.
This expansion has made top-notch local digital marketing courses available to Bangalore citizens. This opportunity combines quality and convenience, allowing locals to progress in their professions and keep a competitive edge in the quickly evolving industry of digital marketing.
Courses on SEO, Social Media Marketing, Email Marketing, Content Marketing, Google AdWords, Analytics, and more are covered in the syllabus. It was collaboratively created and certified by NASSCOM, Meta, and LinkedIn. This comprehensive curriculum will provide professionals and students with a well-rounded educational experience.
 
A pioneer in the field of digital marketing training, Digital Vidya.
Impressive recognition has been bestowed upon Digital Vidya for its inventive contribution to the field of digital marketing education. With more than ten years of experience in the industry, they have consistently offered top-notch training, building a network of accomplished digital marketers.
Leading the way in providing cutting-edge skills since its foundation in 2009 is Digital Vidya, a well-known professional training company in Asia. With a relentless commitment to excellence, it has solidified its position as Asia's best choice for expert instruction in digital marketing.
They have made a strong name for themselves as a global leader in professional training. They exhibited their expertise by imparting digital marketing wisdom to over 95,000 individuals from over 55 nations. Their cutting-edge digital marketing knowledge can be obtained from no other source.
These are the words of former Digital Vidya students
Digital Vidya's success is demonstrated by the achievements of its alumni, such as Saikat Pradhan, a Senior Business Development Executive at Renaissance. Saikat generously shares his invaluable wisdom, highlighting the journey's profound impact, saying:
"I had a nice experience at the Digital Marketing Course. It has strong coverage of the topic, and the DV team provided me with outstanding assistance."
In talking about his time as a Team Leader, former PayTM student Abhinay Patil says,
"I loved learning a lot of new things in Digital Marketing. I'm grateful to the staff at Digital Vidya and all of my trainers."
Bangalore Expansion of Digital Vidya: A Strategic Advancement
The choice made by Digital Vidya to expand their reach in Bangalore and start offering courses was well thought out. Many software companies and startups call Bangalore, sometimes known as the "Cyber City of India," home.
This is creating a demand for qualified digital marketers, which Digital Vidya hopes to fill with their top-notch digital marketing school in Bangalore.
The Digital Vidya course aims to provide professionals with the knowledge, skills, and hands-on experience they need to be successful in the digital marketing industry. The professional courses are specifically tailored for those who want to work in the digital marketing industry.
Students may receive comprehensive one-on-one coaching from mentors with experience in digital marketing through Digital Vidya. This helps them acquire the skills and knowledge needed to compete in today's work market.
This is an opportunity that professionals and students alike should seize.
Professionals and students alike saw great potential in the expansion to Bangalore. It provides an environment for people to develop their skills in digital marketing and make a name for themselves in the industry.
With the aid of Digital Vidya's courses, individuals may start their own businesses and have successful careers in the digital sector. Because the course materials are designed to meet the most recent industry criteria, students will have an advantage over their peers.
Many industry insiders hold Digital Vidya in high respect due to the quality of its courses and depth of expertise.
Virginia Sharma, a former director of LinkedIn Marketing Solutions, said:
"The work Digital Vidya does is very important to help traditional companies and marketers reinvent themselves to become digital."
More professionals and students will have access to Digital Vidya's services thanks to its expansion into Bangalore, giving them a competitive edge in the market.
They firmly believe that as the need for digital marketing experts increases, their courses will give students an invaluable opportunity to begin fulfilling careers in the industry. Many professionals who aspire to become skilled digital marketers may achieve their goals with the help of Digital Vidya, provided they receive the proper guidance and education.
At Digital Vidya, where courses like the Certified Digital Marketing Master [CDMM] Course are offered, there's certain to be something of interest to everyone. There is a course that will help you improve your understanding of digital marketing, regardless of your degree of experience. So don't wait any longer to start your job advancement journey with Digital Vidya!
What Can Bangalore Students & Professionals Expect?
At Digital Vidya, Bangalore residents can expect a range of workshops and courses that will undoubtedly offer them a competitive edge. The Bangalore branch will benefit from extra learning opportunities such as webinars, hackathons, boot camps, and more, in addition to the same resources as other branches.
Using case studies and actual projects, the course provides hands-on instruction in digital marketing essentials including PPC advertising, content marketing, SEO, and online reputation management.
Digital Vidya prioritizes experiential learning with more than 140 hours of real-world projects and assignments. These assignments simulate actual situations, exposing students to business difficulties. Additionally, they offer substantial placement support to ensure a smooth transition into the working world.
Tools worth more than INR 72,000 are included in the digital marketing training. With more than 10 years of experience teaching digital marketing, Digital Vidya is committed to developing the next wave of professionals. Their placement cell works directly with top digital marketing companies to provide students with interviews and employment.
 
Meet the Pioneers: The Leaders and Founders of Digital Vidya
Digital Vidya is an innovative company led by goal-oriented leaders. They stand out for their commitment to staying ahead of the curve in the rapidly evolving digital landscape. With cutting-edge training programs, Digital Vidya empowers individuals with the skills they need to thrive in the digital age.
Since 2000, Pradeep Chopra has been in charge of the Internet industry. He is a genuine pioneer in the field of digital marketing. With an impressive background that includes an IIT Delhi degree and the coveted Adobe Content100 award, his creative leadership has played a pivotal role in the company's amazing expansion.
Due to his captivating talks on entrepreneurship and digital marketing, he has become a much-in-demand speaker who frequently attracts audiences all over the world.
The renowned CEO of Digital Vidya, Kapil Nakra, has been instrumental in creating cutting-edge goods and creative distribution methods. Nakra has an impressive background from IIT Delhi and a successful commercial career. She has a simple and curious leadership style that encourages new ideas and fosters a creative problem-solving culture.
He frequently speaks at conferences and events focused on Internet marketing, effortlessly captivating audiences with his undeniable passion for business and online marketing. Referring to the business, he states,
"Digital Vidya is focused on creating and delivering an excellent training environment, making it perfect for students to upskill and get their dream jobs in digital marketing."
 
A bright future awaits those in Bangalore with exceptional digital marketing skills.
Thousands of students have graduated from Digital Vidya's digital marketing course, which has seen tremendous success. They are currently growing in Bangalore to serve the city's vibrant startup scene and quickly increase the IT industry.
Digital Vidya provides a diverse range of online courses, equipping students in Bangalore with invaluable knowledge of digital marketing. This plays a crucial role in a rapidly expanding field. The community they foster comprises knowledgeable digital marketers, eager to absorb expertise from industry professionals and offer exceptional training and resources.
Bangalore is a hub for tech-savvy individuals to kickstart their careers, and the expansion of Digital Vidya is a promising development. This exceptional local digital marketing course unlocks a multitude of opportunities, while also fostering a strong community of like-minded professionals. Through networking and collaboration, the course aims to further enhance the digital marketing landscape.
Bangalore is abuzz with excitement as Digital Vidya expands, showcasing its commitment to education and confidence in the city's future as a technology powerhouse. Get ready for a transformative revolution in digital marketing training!

Disclaimer: This is a featured content 
Last Updated Sep 27, 2023, 11:54 AM IST