Ambedkar statue in Raipur: Everyone's responsibility to protect Constitution as it empowers us, says CM Baghel
Chief Minister participated in the Bhoomi Pujan program organized for the installation of the new statue of Dr. Bhimrao Ambedkar at Ambedkar Chowk in Raipur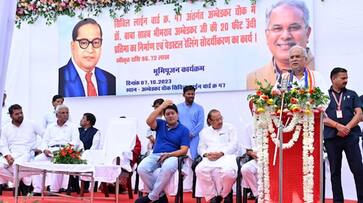 Raipur, 7 October 2023/ Chief Minister Mr. Bhupesh Baghel participated in the Bhoomi Pujan program organized by the Urban Administration Department for the installation of the new statue of Dr. Bhimrao Ambedkar at Ambedkar Chowk in Raipur. MLA Mr. Kuldeep Juneja, Mayor Mr. Aijaz Dhebar, Chairman of the Chhattisgarh Yoga Commission Mr. Gyanesh Sharma, and public representatives were present on the occasion.
While addressing the gathering, Chief Minister Mr. Baghel said that on the day of Ambedkar Jayanti, it came to light that the present statue of Baba Saheb had weathered with time, hence a new statue should be installed in its place. This responsibility was given to the Municipal Corporation; the Corporation floated a tender for it, completed the process, and the statue is now under construction. Today, the Bhoomi Pujan of the idol installation work is being conducted. On this occasion, I congratulate all of you and give you my best wishes.
The Chief Minister said that in the present time, we can take society and the country forward by following the path shown by Baba Saheb. The Constitution he has given us is the biggest strength for all countrymen. Under this Constitution, we all have certain fundamental rights. Now, if an attempt is made to weaken the Constitution, it will be an attempt to weaken the countrymen, which will also weaken the country. Considering the Constitution is supreme, it is the responsibility of all of us to protect it because this Constitution empowers us.
Last Updated Oct 9, 2023, 1:59 PM IST