'Lost' in Saudi desert, Tamil man returns home after 24 years
52-year old Sarfuddin Thayyil, Rajamariyan hasn't spoken to anyone in the past 24 years.
He did not have legal papers and chose to abscond in the Saudi desert to escape his employers.
He is all set to come back to India under the 90-days amnesty scheme.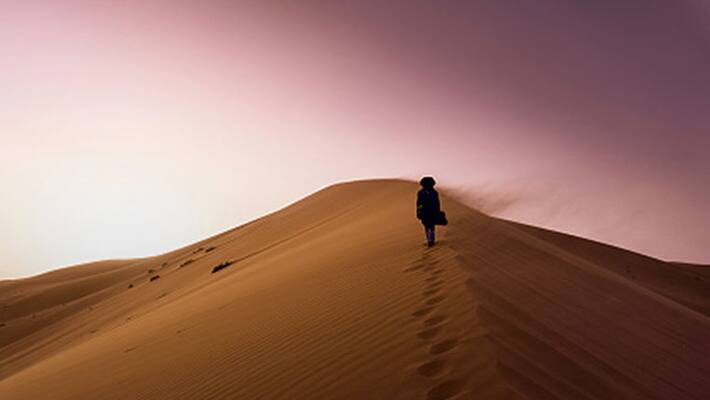 A 52-year old man from Tamil Nadu had landed in Saudi Arabia with big dreams and great hopes, only to be disappointed by his three employers who treated him badly and paid him nuts. The only solution that he could find to escape the horrendous experience was to abscond. With no documents or papers with him, he decided to lead the rest of his life in the deserts...illegally.
This seems to be a story right from Hollywood, but that was the gruesome reality that Gana Prakasam Rajamariyan was facing. Away from his family, he did not have any options to go back since he could not retrieve his legal papers. He didn't even know who among the three of his employers were his actual sponsorer. Hailing from Kanyakumari in Tamil Nadu, he said he was paid only Saudi Riyal 100 a month by his first employer. He then 'transferred' him to a second one and then a third one, who were equally bad. 
Speaking to a Gulf newspaper he said, "Of the three employers, I was not sure which one was my sponsor. Above all, I did not receive any salary from them, so I decided to abscond and live illegally out of compulsion." He further added, "My four daughters were very young when I left home. Now when I return, I have grandchildren of the same age."
He was able to marry off three of his four daughters with the money he saved in Saudi Arabia. He did not even have an Aadhar card or a voter ID card since these documents were introduced after he left the country. He doesn't even have a house in India. He said that he made spoke to his wife last in 2015 when she was in the hospital. After that he could not call her because she was not able to speak and died a year later. Meanwhile, with the help of Hail-based social worker Sarfuddin Thayyil, Rajamariyan has completed all his formalities for his return to India. He hopes to leave Saudi Arabia soon.
Rajamariyan got a second lease of life, thanks to the 90-day amnesty period that the Saudi government has offered illegal residents in Saudi Arabia. Speaking to the Hindustan Times, General Directorate of Passports (GDP) in Saudi Arabia said, "By approaching the passport departments to solve their status from March 29, illegal workers "will be exempt from the consequences associated with the deportee fingerprint system and will be able to return to the Kingdom on the condition of pursuing legal methods to gain entry."
Meanwhile, the Indian Ambassador to Saudi Arabia Ahmed Javed said that people listed as 'Matloob' or wanted in criminal records and those holding valid residence visas and passports were not covered by the amnesty. All the illegal residents were appealed to use the amnesty period to leave the country. They were also assured that they could come back to the country with all legal papers if they intended to work there. The Indian Embassy in Riyadh and the Consulate General in Jeddah received a total of 26,713 applications for emergency travel passes. In the past 56 days since the amnesty was issued, the government granted 25,894 passes. 
 
Last Updated Mar 31, 2018, 6:35 PM IST