What is Moon Milk? Know more about this ancient but trendy drink
Moon milk is a soothing beverage made with warm milk, herbs, spices, and adaptogens, believed to promote relaxation and aid sleep. Popular in wellness circles, it offers a calming bedtime ritual, though scientific evidence for its holistic benefits varies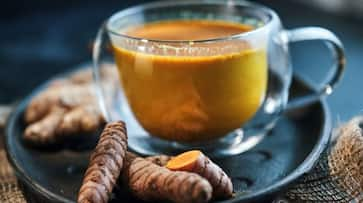 Moon milk is a trendy and calming beverage that has gained popularity in recent years, particularly in wellness and holistic health circles. It is not a traditional dairy product but rather a warm, soothing drink made by combining warm milk (often plant-based, like almond, coconut, or oat milk) with various herbs, spices, and adaptogens. The ingredients in moon milk are chosen for their potential to promote relaxation, reduce stress, and aid sleep.
Common ingredients in moon milk recipes include:
Milk: This forms the base of the drink. You can use regular cow's milk or a dairy-free alternative such as almond, soy, coconut, or oat milk.

Herbs and Spices: Moon milk often contains herbs and spices known for their calming and soothing properties. Common choices include turmeric, cinnamon, ginger, cardamom, and nutmeg.

Sweeteners: Honey, maple syrup, or agave nectar are often used to sweeten moon milk. These can add flavor and enhance the soothing qualities of the drink.

Adaptogens: Adaptogens are herbs or substances believed to help the body adapt to stress and promote relaxation. Common adaptogens used in moon milk include ashwagandha, reishi mushroom, and maca powder.

Essential Oils: Some recipes incorporate a drop or two of essential oils like lavender or chamomile to enhance the calming effect.
To make moon milk, you typically warm the milk and then mix in the herbs, spices, sweeteners, and any other chosen ingredients. The resulting concoction is a comforting and aesthetically pleasing drink that is often consumed before bedtime to help relax and promote better sleep.
Moon milk's name is derived from the idea that it can help create a sense of tranquility and prepare the drinker for a restful night's sleep, akin to the calmness associated with moonlit nights. While some people believe in the holistic benefits of moon milk ingredients, it's important to note that scientific evidence for the effectiveness of adaptogens and other herbal remedies can vary, and individual results may differ. Nonetheless, moon milk remains a popular and enjoyable beverage choice for those seeking a soothing bedtime ritual.
ALSO READ: World Heart Day 2023: Heartfelt messages, quotes to celebrate cardiovascular health
Last Updated Sep 29, 2023, 6:25 PM IST