Onam 2023: Mahabali's myth to Kerala's Buddhist tradition, discover how the festival evolved
As per historians, while the legendary Asura king Mahabali might not have reigned over Kerala, his narrative resonated within the region and finds a special significance in the festival Onam.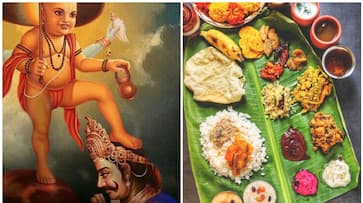 Onam, Kerala's celebrated harvest festival, encapsulates a tapestry of conflicts and complexities. At its core lies the renowned tale of the benevolent Asura ruler Mahabali, who returns annually to his people. In his realm, equality reigned, fostering peace and prosperity. Yet, Indra, the Deva king, fearing Mahabali's influence, beseeched Vishnu for intervention. Taking the form of Vamana, a Brahmin boy, Vishnu confronted Mahabali. This myth intertwines mythos, history, and ideology, unveiling layers of identity and realpolitik. Onam's allure emerges from its multilayered narrative, a captivating blend of fantasy and reality that resonates through time.
What is the myth of Mahabali?
ALSO READ: Onam 2023: Know Thiruvonam date, significance, puja rituals and shubh muhurat
During the course of a grand 'yajna', king Mahabali extended an invitation to Vamana to claim a boon of his choice within his kingdom's bounds. Unexpectedly, Vamana, a diminutive figure, requested merely three paces of land. Agreeing without hesitation, Mahabali granted the wish. Astonishingly, the Vamana expanded skyward, enveloping the earth with his first step and the celestial realm with the second. Left with no space, Mahabali, true to his word, tendered his own head. With his third step, Vamana banished him to the netherworld. However, at Mahabali's plea, Lord Vishnu permitted an annual visit to his people, birthing the tradition of Onam to honor this reunion.
What do historians say?
In his work titled 'The Sociology of Onam', scholar A M Kurup alludes to a Tamil ballad from the Sangam literature of the 2nd century CE. This ancient verse recounts the Onam festivities held in Madurai, marking possibly the earliest known reference to Onam within the realm of South Indian literature. Historian Malavika Binny also draws attention to an event called the 'Indira Vizha' festival documented in Sangam records. This reference supports her argument that Onam had been observed as a harvest celebration long before the emergence of the Mahabali legend. According to her, "If the Indira Vizha festival later on became Onam, then one could argue that Onam has a pre-Brahmanic history."
As per historian M G Sasibhooshan, Onam was observed as Vamana Jayanti during the Pallava dynasty. "Onam was celebrated in a vast region spanning from Tirupati (in present-day Andhra Pradesh) to Kanyakumari (present-day Tamil Nadu) between the 6th and 8th centuries. In fact, Tirupati Venkatachalapathy is a form of Vamana's Trivikrama," he says. Talking about copper inscriptions from Sreevallabha Temple in Thiruvalla from the 11th century that point to Onam celebrations, the historian says, "A copper plate dated back to the reign of Chera Perumal ruler Sthanu Ravi (861 CE), known as the Kulasekhara, discovered from the Thiruvattuvayi Shiva temple in Thiruvalla (In Pathanamthitta district in present-day Kerala) indicates Vamana Jayanti rituals where scholarly Brahmins were given feasts."
What do the Thiruvalla copper plates signify?
The Thiruvalla copper plates or the Huzur Treasury Plates have inscriptions that detail the anticipated costs for the Onam festival, scheduled during the month of Avani, the fifth month in the traditional Tamil calendar. Talking about the plates, Historian Malavika Binny says, "Those recorded the amount of rice given to temple servants by the temple for services rendered, and a clear hierarchy can be seen in the remuneration given. So, we can infer that Onam had become a temple-centered festival by this period." She also adds that no evidence suggests that Onam was ever Vamana Jayanti.
"It appears to have originated as a pre-Brahmanic or Buddhist festivity before being assimilated into the Brahmanical milieu," she notes, further highlighting that anthropologists and scholars in cultural studies have highlighted the festival's potential ties to Buddhism. "The Onakkodi, which is a yellow cloth traditionally given to the young by elders during Onam, has been suggested to be a pointer to the yellow robes given to new converts to Buddhism. The coincidence of Onam to the Sri Lanka Buddhist new year, the vegetarian nature of the festival and the use of the Onathappan, the round flower carpet symbolising the Dhamma Chakra (The Wheel of Law) have all been considered part of Buddhist influences," says Binny.
During medieval Kerala, specifically on the Uthradom day preceding the main Thiruvonam festival, a custom existed where peasants were anticipated to offer the yield of dryland cultivation to their landlord Brahmins. In return, these landlords would bestow new clothes (Onakkodi) and host a feast. Over time, tensions escalated as landowners demanded greater yields, inciting a quiet uprising among the peasants. Consequently, by the 14th century, a shift occurred in their interpretation of the Onam narrative. Historian Sasibhooshan explains, "They began to perceive the Asura king Mahabali as their champion instead of the Brahmin boy Vamana," indicating a transformation in their perspective.
Historian M G S Narayanan aligns with Sasibhooshan's perspective regarding Mahabali's central role in Onam's narrative evolution within Kerala. In his work 'Kerala Charithrathile 10 Kalla Kathakal', Narayanan highlights the infusion of the Vaishnavite tradition into Kerala's temples during the 9th century, ushering in the worship of Vamana. Over time, Onam transitioned from a harvest and spring festival to eventually encompass Mahabali veneration, spurred by the protests of the peasantry. Nonetheless, Narayanan strongly disputes the notion of Mahabali's rule over Kerala. He contends that this element lacks support in mythological texts, attributing it to the creative imagination of storytellers aiming to portray an egalitarian societal structure.
So what is Onam's origin?
Binny points out that the Bali myth holds sway along the western expanse of India, stretching from Maharashtra to Kerala, portraying an alternate realm governed by an upright ruler. This notion of "Balirajya" or "Balisthan" has been touched upon by luminaries such as Mahatma Jyotirao Phule and sociologist Gail Omvedt, who highlight its presence as a counter-narrative in Maharashtra.
It's plausible that the Mahabali legend stands as an archetypal myth that harmonizes with subsequent tales like that of Cheraman Perumal, who converted to Islam or embarked on a pilgrimage. This concept of a virtuous or ideal sovereign being ousted, only to return one day and reinstate a benevolent governance, is a recurring motif in many ancient cultures. Within the context of Onam, this myth has been exquisitely preserved and commemorated.
Despite Mahabali being projected as a symbol of the marginalized, the upper castes in Kerala seamlessly embraced him as the paramount emblem of Onam, participating in rituals centered around Vamana or Lord Vishnu, both in temples and households, alongside communal festivities like vallam kali (boat races), puli kali (leopard dance), and communal feasts, all without hesitation. This harmonious assimilation might owe its success to the fact that as Onam evolved into a secular celebration spanning caste and religion, its outward expressions, including attire and cuisine, continued to carry an upper-caste influence, particularly after Kerala's official declaration of Onam as the state festival in 1961. Notably, this frictionless coalescence conceals the prevalence of Hindu Savarna practices masked as secular traditions in Kerala's societal fabric, a phenomenon Binny asserts has persisted for an extended period, substituting the practices of oppressed castes during the social renaissance era, ultimately shaping Kerala's modern state identity with a Savarna historical backdrop.
ALSO READ: Happy Onam wishes 2023: Inspirational quotes, images, Instagram captions and Whatsapp/Facebook Status
Last Updated Aug 29, 2023, 11:52 AM IST