Numerology Prediction for September 8, 2023: Here's what you can expect today as per your birth number
Here is what the stars have in store for you on September 8, 2023, as per your date of birth. Check out the predictions by Chirag Daruwalla. Read and share with your friends.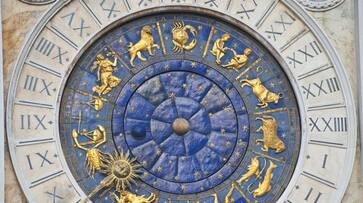 Number 1 (People born on 1, 10, 19 and 28 of any month)
Ganesha says there will be success in long-standing efforts for some work; you will be able to devote time to religious and spiritual activities. Do money related work carefully. Carelessness can cause harm; children's movements need to be closely monitored. There will be some disruption in business activities. But there will be success in business related to public affairs, computer etc. The ongoing disagreement between husband and wife will affect the family system. Excessive work load will affect health. 
Number 2 (People born on 2, 11, 20 or 29 of any month)
Ganesha says there can be a program related to travel for a special purpose. Close relatives will arrive in the house and there will be positivity in the house. Respect the elders of the house. You need to improve your behaviour too. Business activities will improve at work place, media and computer related business will create beneficial situation. Do not let outsiders interfere in the home environment. Otherwise there may be conflicts; lovers need to respect each other's feelings.
Number 3 (People born on 3, 12, 21, 30 of any month)
Ganesha says spend time with people with positive attitude, financial condition will improve. Efforts made for a particular purpose are likely to get success. There will be busyness in personal work. But don't neglect family activities. It is necessary to give them proper time. The commercial party is likely to get a large order through contact sources. Spouse and family members will get full support. Do not be careless about health. 
Number 4 (People born on 4, 13, 22 or 31 of any month)
Ganesha says take some time to relax from the busy routine. Appropriate advice will be given by a senior person in making work related plans. Spend some time in meditation and contemplation. Due to lack of concentration, you will find it difficult to format your tasks properly. Don't try to make any changes in business activities now, postpone the marketing work. There may be quarrel between husband and wife due to personal reasons. But soon the situation will be stable. Knee and joint pain problem may increase. 
Number 5 (People born on 5, 14, 23 of any month)
Ganesha says social circle will increase. Try your best to complete the remaining work. Consult a senior person in the house when it is time to take a decision. Also trusting any unknown person can create trouble for you. There is a possibility of getting a big order in business. Also there is a possibility of migration. Married life will be full of harmony. Health will be good. Stress can cause headaches.
Number 6 (People born on 6, 15 or 24 of any month)
Ganesha says there will be a happy environment by maintaining a balance between family and professional activities. There are good prospects regarding financial gain at this time. Keep distance from people with negative attitude; avoid taking risk in any work. A dispute may be resolved. Be very careful in marketing matters. Advice from spouse and family members will be beneficial and relaxing. Sweetness will increase in mutual relations. Physical weakness may be experienced.
Number 7 (People born on 7, 16, and 25 of any month)
Ganesha says maintain your hard work and work ability, social circle will increase. There may be some stressful situation in the family. Solve the problem calmly instead of anger or passion. Personal problems may escalate due to interference from outsiders. The time is right to implement unfinished plans in the field of work. Keep a close eye on employee activities. Family arrangement will be pleasant. Family gatherings with friends bring joy. Control anger and excitement. 
Number 8 (People born on 8, 17 and 26 of any month)
Ganesha says at this time the position of the planets is giving you full support. It is an auspicious time to complete interrupted tasks. Advice and guidance from the elders of the household will prove to be a boon. Disagreement with friends, outgoings will increase in proportion to income; give priority to your decision. Business problems will be solved. And unfinished works will speed up. Property related work will be beneficial. Don't trust strangers. Married life will be happy and harmonious. 
Number 9 (People born on 9, 18 and 27 of any month)
Ganesha says if you are thinking of any plan related to buying and selling of property, then the time is very favourable. A certain issue will be discussed with a certain friend or relative. You will not get the right results for your hard work; try to solve the situations with patience instead of anger. Due to personal busyness you will not be able to pay much attention to your business, due to work load government employees will have to give extra time. There will be bitter and sweet dispute between husband and wife. 
Last Updated Sep 8, 2023, 8:08 AM IST