Navratri 2023: From garba fetch to puzzle toys, pet-friendly celebration ideas
While you are enjoying the dandiya night and other fun activities, don't forget to include your dog. Here are five wholesome and fun activities that will ensure both you and your pet have an amazing time this Navratri.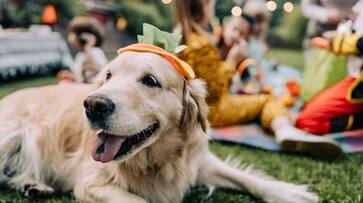 Navratri is when Hindus celebrate goddess Durga's victory over the demon king, Mahishasura. It is an auspicious occasion, celebrating good over evil which is enjoyed over dance, music, and family get-togethers. From dandiya to garba, we celebrate this occasion with much gusto, however, let's not forget to include our pawsome, furry pals. After all, they are not just pets but also treated as other members of the family who can also have some fun with their human siblings. Your pet can join in the Navratri fun with some exciting activities to keep them physically active and engaged. Asianet Newsable got in touch with Sushen Roy, Business Head, Zigly, who suggested wholesome and fun activities that will ensure both you and your pet have an amazing time this Navratri. 
Garba fetch
Sticks are fun for a dog. Even your cat enjoys a bit of fetch with a bait dangling from a stick. So why not incorporate this with some Navratri twist? Paint a ball with some animal-friendly colours and engage in a game of Garba Fetch. Dance to the beat of Garba but as soon as you clap your hands, throw the ball for your pet to fetch while you groove to the beats. Before you know it, your furry friend is waiting for the clap to activate its running mode. Garba fetch is one of the best ways to enjoy and celebrate Navratri with your pet-sibling.
Musical paws
Play some Garba music and encourage your dog to dance by moving their paws to the beat. Reward their moves with treats and praise. Another way is you do the Garba routine and encourage them to turn around with you while you dance with your group of friends. Not only you but your friends will also enjoy the routine.
Puzzle toys
Navratri is also a time when we give sweets to each other. Try doing this in front of your pet and hear them pinning for a bite of it. Like us, they are curious creatures. A great way to keep them healthy and mentally active during this time, while also satiating their appetite, is a puzzle box. There are many different types of puzzle toys available, so you can purchase one that is appropriate according to your pet's age. Do not make it too hard for them. These puzzle boxes can be filled with treats and pet-friendly sweets, which will give your dog an extra incentive to solve them.
Dress up with your pets
Navratri is a time when we discard the old and bring in new vibes. It is also a time when we wear new clothes, especially when we have a dandiya celebration
to attend. Why not take this to the next level with your pet? You can purchase a matching outfit with your own for your pet. Alternatively, you can even find festive-themed attire for your pet. Go ahead and paint the town red with your festive outfits.
Navratri is a time of joy and togetherness where even your furry friend deserves to be part of the celebration. This will also strengthen the bond with your pet during this festive season. So grab those dandiya sticks, put on some traditional music, and let the celebration begin!
Last Updated Oct 16, 2023, 1:08 PM IST