Kajari Teej 2023: Significance, shubh muhurat, puja rituals, and traditions
Kajari Teej 2023, celebrated three days after Raksha Bandhan, honors Lord Shiva and Goddess Parvati. Married women fast, worship Neem tree, and sing Kajari songs for marital prosperity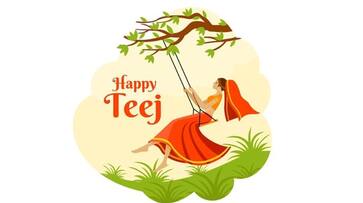 Kajari Teej, also known as Badi Teej, is a significant Hindu festival celebrated to honor the union of Lord Shiva and Goddess Parvati. It is observed primarily by married women who fast and perform various rituals to seek blessings for the longevity and prosperity of their husbands and their married lives. This festival falls three days after Raksha Bandhan and fifteen days after Hariyali Teej. It also includes the worship of Goddess Neemdi. Here is all you need to know about Kajari Teej 2023:
Significance of Kajari Teej: Kajari Teej celebrates the love and union of Lord Shiva and Goddess Parvati. Legend has it that Kajari was a forest where King Dadurai frequently visited with his wife. When the king passed away, the queen chose to perform Sati with him, and Kajari Teej emerged as a tradition to commemorate their love. This festival aims to enhance love and prosperity in married lives.
ALSO READ: 7 health advantages of eating watermelon
Shubh Muhurat: According to Drik Panchang, Kajari Teej will be celebrated on September 2, 2023. The Tritiya Tithi (third day of the lunar fortnight) will begin at 23:50 p.m. on September 1 and will end at 20:49 PM on September 2.
Puja Rituals and Traditions:
Morning Rituals: The day begins with married women waking up early in the morning and taking a purifying bath.

Fasting: Women observing Kajari Teej fast throughout the day. This fast is known as "nirjala," meaning fasting without food and water until the moonrise.

Worship of Neem Tree: On this day, women also worship the neem tree as a symbol of Goddess Neemdi. They may tie a red or yellow thread around the neem tree.

Pond-Like Structure: In some regions, women construct a pond-like structure with certain walls, often made of cow dung, and adorn it with jaggery and ghee. A neem twig is planted within this structure.

Offerings: Water and raw milk are poured on the planted neem twig as an offering. The thali (plate) for puja is decorated with various items, including whole rice, sacred thread, vermilion (sindoor), sattu (roasted gram flour), fruits, cucumber, and lemon.

Cow Worship: It is an important ritual to worship cows on the auspicious day of Kajari Teej. Cows are considered sacred in Hinduism, and their worship symbolizes prosperity and well-being.

Singing Kajari Songs: Women also celebrate Kajari Teej by singing traditional Kajari songs that depict the love and devotion between Lord Shiva and Goddess Parvati.
Kajari Teej is a day of devotion and celebration, where married women pray for the happiness and prosperity of their married lives. It is a time to strengthen the bond between couples and seek the blessings of divine deities.
ALSO READ: World Coconut Day 2023: Date, history, significance
Last Updated Sep 2, 2023, 11:00 AM IST