From blood donation camps to orphanage day, Bengaluru sees festivities with a cause on Durga Puja
This five-day long Durga Puja celebration in Bengaluru is one of the most successful cultural events in the city and is traditionally attended by well over 2500 patrons daily.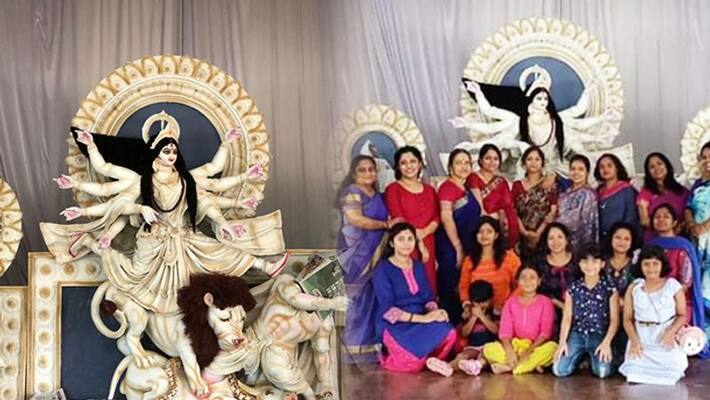 Tripura Mondoli Bangalore (TMB), a socio-cultural trust, founded in 2004, is a forum of likeminded, professional, and enthusiastic people settled in Bengaluru. They have come together with a vision to create a forum for organizing and enjoying cultural programmes focused around major festivals.
The initial group subsequently grew after several people from various castes, backgrounds joined in. Though the people in the group are diverse in language and ethnicity, they have a shared interest in art and culture. 


TMB provides a platform for all to participate in different socio-cultural activities and connects people of all ages and cultures to their roots. Members get together regularly to organise different festivals, social activities, cultural functions, sports and outdoor activities.
This year too, TMB is celebrating their largest event of the year, 'AGOMONI 2019' as part of Durga Puja from Friday, October 4 till Tuesday, October 8, 2019 at Whitefield. 

This five-day long celebration is one of the most successful cultural events in Bengaluru and is traditionally attended by well over 2500 patrons daily.
The uniqueness of AGOMONI Durga Puja is the perfect blend of Ghoroa Puja (Homely) & Barowari Puja (Public/Commercial). Apart from 5 days of traditional Durga Puja, the organisation also celebrates Kumari Puja with guidance with Ramakrishna Mission. On Saptami, Ashtami and Nabami they offer Maha-Bhog (prasad) to devotees, who travel from all parts of Bengaluru seeking the blessings of Maa Durga. 
In the evening, TMB organises disco-dandiya, musical concerts by renowned artist/bands from Northeast India and Kolkata, and various cultural programs with in-house talents.
During the puja, TMB also organises various activities for a cause. In 2018, a blood donation camp was well appreciated by people and the TMB was awarded the 1st Prize in 'Best Social Work' category by the Bengali Association. 

This year too, people will witness activities for a social cause, say members. As part of 'A day with the Kids from Orphanage,' around 40-50 kids from local orphanage will also witness Durga Puja and participate in various activities like drawing, games, dance with other children.
TMB has also started a new educational, social initiative in the year 2010 under the brand umbrella of Proyash to provide scholarship and career guidance to meritorious students from Tripura and Karnataka and are planning to spread this initiative to other parts of India in the coming years. 
"It is aimed at supporting meritorious students who are being deprived opportunities to pursue their studies because of a lack of financial support. Last academic year Proyash has supported 107 students and this year we are planning to support approximately over 110 students," said Shekar Das, a member of the association.
Last Updated Oct 3, 2019, 12:52 PM IST