The toddler's father sent her out at 3am for not drinking her milk
Sherin Mathews was the adopted daughter of Wesley Mathews
The parents reported her disappearance only 5 hours later
Relatives of three-year-old Sherin Mathews cannot believe that the little angel is missing. Daughter of Wesley Mathews, a Keralite from India, Sherin was punished by her father for not drinking milk, states an affidavit filed in the case. As a punishment, Wesley had asked Sherin to stand under a large tree in their backyard at 3 am. 15 minutes later when he went to get his daughter, she was missing. She was also their adopted daughter. The Mathewses had adopted her from an orphanage in India.
Police in Texas are still searching for the missing three-year-old who was last seen outside the Richardson home at 3am on Saturday. The area that they live in is also famous for coyotes (a fox-like animal, rarely known to attack humans but dangerous all the same). Their home is also near to some railway tracks.
A press release by the Richardson police department states that her dad, admitted that it wasn't unusual for the child to stay up so late while eating food to increase her weight. Sherin was malnourished, had developmental issues and had limited communication skills. Her behavioural skills are not that of a typical three-year-old. She is about 3 feet tall and 22 pounds with black hair and brown eyes. She was last seen wearing a pink top, black pyjama bottoms and pink flip-flops.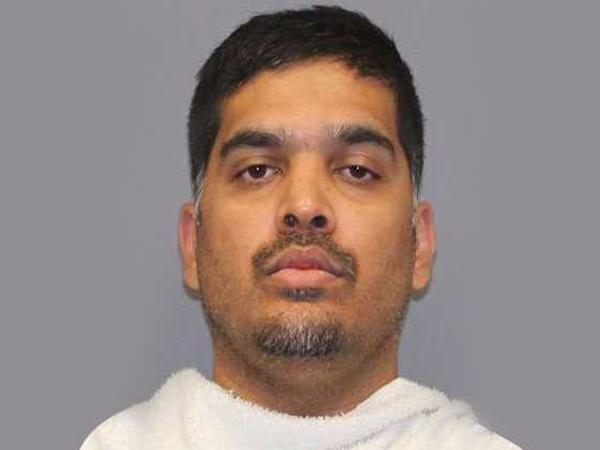 An amber alert was immediately issued but on Monday that too was removed since they did not receive any leads.
37-year-old Wesley Mathews had ordered his little girl to stand under a tree that was across an alley and about 100 feet away from the home. What is worrying that the police were reported her disappearance five hours later.
Since Saturday, numerous searches have been conducted around the neighbourhood and surrounding areas of the Mathews home. The Richardson police say that they performed thorough searches involving the use of Reverse 911, trained search experts utilising K-9 teams, helicopters and door to door canvassing as well. The family's cars were also towed away to look for clues, policemen have stationed near the house.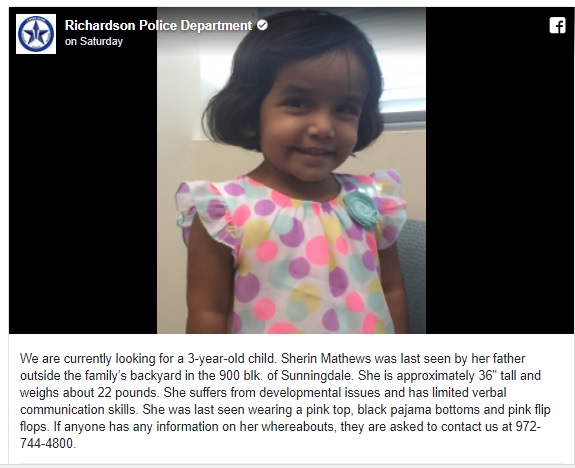 Sherin's father Wesley, 37, was arrested for endangering and abandoning the little girl and was released on Sunday after he posted a bail bond of $250,000. The charge was placed because he risked his daughter's safety. The couple's other four-year-old has been sent to child care protection services following this incident. The mother was not involved in the incident though she was in the house. The couple is not even speaking to their attorneys.
According to a report on nbcdfw, relatives of the family are saying they are unaware of what had transpired that night. Members of Emmanuel Bible Chapel in Irving, where the family goes, also tried to help in the search by posting fliers in the neighbourhood. Speaking to the media Philip Mathews, Sherin's uncle insisted that the parents loved Sherin very much. In all this the silence of the mother was also highlighted. People known to the family said the mother was not aware of what had happened on that Saturday morning and that she was depressed and worried for Sherin.
Meanwhile, as the news became viral on social media, people immediately alleged that there was something fishy about the father's behaviour, the silence of the mother in the whole thing and why would anyone punish a three year old for not drinking milk. Commenters have been busy blaming the father for being irresponsible in his behaviour asking why did he have to make such an issue of the girl not drinking milk. Many berated him for having done something to his daughter. The police are yet to find any vital clues as they were called too late. Even the canines could not sniff out anything substantial. A man who came out in support of the family on Facebook was also criticised for emphasising that they were 'good Christians and a god-fearing family'.
Last Updated 31, Mar 2018, 6:44 PM IST