We will not allow building of Babri Masjid: Kalladka Prabhakar Bhat
RSS functionary from Dakshina Kannada said that he would not allow building of Babri Masjid
He alleged Muslims of destroying the beautiful structure built by Hindus
Here is exactly what Prabhakar Bhat said at the Hindu Sangam event organised by the Hindu Parishad at Shivamogga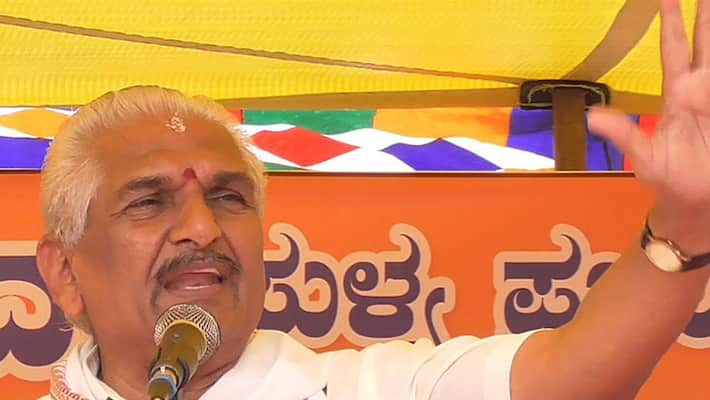 Levelling many allegations against the Muslims, Kalladka Prabhakar Bhat, RSS functionary from Dakshina Kannada, said that he would not allow building of Babri Masjid.
His allegations were not based on any fact or statistics. Instead, charging people with an emotional sentiment, Bhat said, "Whichever beautiful building Muslims set their eyes on, they destroyed it. They demolished the Somanatha Temple and built a Mosque there." However, it can be noted that there is a historical record of Arab invasion and destruction of the temple, but no trace of building any mosque there.
 Speaking about a completely whimsical situation, Bhat said, "Today Hindus have to beg the government to let them live peacefully. Though Gandhiji wanted a Ramarajya, today the condition is such that there is no respect to Rama."
Here also it can be noted that by Ramarajya, Gandhiji meant to have a system where villages and rural areas where all people from all classes and strata had basic amenities and nobody would go hungry. But it is sad that Bhat has restricted the Ramarajya concept to one community.
Bhat also said that as Muslims have destructed Hindu temples, we will not give them another chance to build Babri Masjid, which they are planning to construct.
Even this, the Muslim bodies are heard opposing the building of Ram Mandir at the land which they claim to be the place where Babri Masjid existed, so far there are no demands to build Babri Masjid at the disputed land.
Last Updated Apr 4, 2018, 7:11 PM IST