Sandalwood actor Kicha Sudeepa tweets in support of Cauvery struggle, netizens urge him to protest on streets
Kiccha Sudeep, a prominent Sandalwood actor, expressed his solidarity with Karnataka's Cauvery River water protection protests on social media. He highlighted the severity of the water crisis due to a lack of monsoon rains and called for expedited actions. However, some netizens called for more active participation in the protests.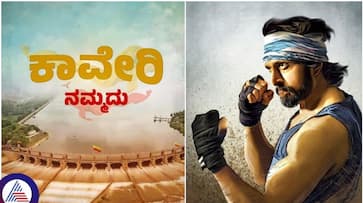 Over the past 15 days, Karnataka has been witnessing widespread protests demanding the protection of the Kaveri River's water, a vital resource for the state, and opposing its diversion to Tamil Nadu. Today, Bangalore is experiencing a complete shutdown as various organizations intensify their fight for this critical cause. Amid these protests, renowned Sandalwood actor Kiccha Sudeep utilized social media to convey his solidarity.
Taking to platforms like X (formerly Twitter), Sudeep addressed the people of Karnataka, saying, "Greetings to all Kannada people; the Cauvery issue has resurfaced this year. Pro-Kannada organizations and farmers are engaged in an intense battle, and I stand with you in all struggles for Karnataka's land, water, and language."

Karnataka Ex CM BSY and Bommai detained during Cauvery protests in Bengaluru
Sudeep underscored the severity of the situation due to the absence of monsoon rains, which has adversely affected both agriculture and drinking water supplies. He emphasized that, apart from the monsoon, there are no other significant sources of drinking water in the region, and generations have relied on the Kaveri River.
Expressing his viewpoint, Sudeep advocated, "I believe that the Drought Study Committee, in conjunction with Cauvery Committee experts, should expeditiously present Karnataka's current drought situation to the Tribunal Court and the Central Government."
He also alluded to the possibility of resolving the crisis through dialogues, suggesting, "Our Chief Minister, Shri Siddaramaiah, akin to some of his predecessors, might potentially address this crisis temporarily through friendly discussions with the Chief Minister of Tamil Nadu."

Bengaluru bandh on Sept 26 against Cauvery water release to Tamil Nadu
Sudeep called upon the Karnataka Chief Minister to address the prevailing water crisis resulting from drought. He urged leaders of all political parties to unite and represent Karnataka's predicament to the central government. Sudeep stressed the importance of giving precedence to Karnataka's drinking water needs while ensuring Tamil Nadu farmers receive water for their Kuravai crop.
However, netizens have responded to Sudeep's post, suggesting that instead of merely tweeting his support, he should join the protestors on the streets to show his solidarity with the Cauvery struggle.
Last Updated Sep 26, 2023, 3:25 PM IST