No one can destroy Sanatana Dharma: BJP MLA Basanagouda Patil Yatnal
Vijayapur MLA Basangouda Patil Yatnal expresses concerns about the stability of the Congress-led government amid communal unrest. He criticizes alleged neglect of national symbols, accuses the Congress party of Muslim appeasement, and advocates for supporting Prime Minister Modi in upcoming elections.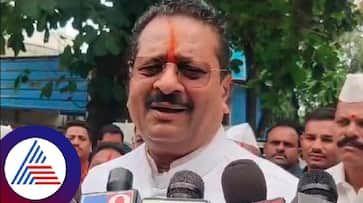 In the wake of communal unrest in the state following the Congress party's assumption of power, Vijayapur MLA Basangouda Patil Yatnal expressed apprehensions about the stability of the current government. He spoke during a Hindu Janajagriti meeting organized by the Hindu Mahaganapati Committee of Bankapur.
Yatnal stated that no force could undermine Sanatana Dharma and warned that tensions would escalate during the Ganapati festival. He criticized the government for allegedly neglecting national symbols, claiming that flower petals were falling on the Indian flag, and called for Ganapati celebrations in Pakistan in 2024, referring to it as the "Monda Alliance."

Karnataka MLA Yatnal's appeal calls to boycott films of actors ignoring Cauvery issue
He accused the Congress party of pursuing a policy of Muslim appeasement and stated that they did not seek the support of certain communities. Yatnal suggested that after the Lok Sabha elections, all guarantees would cease, and they would return to power within a year.
Yatnal further expressed his determination, even in the face of legal challenges, and emphasized the importance of supporting Prime Minister Modi in the upcoming Lok Sabha elections to weaken the state government.

Karnataka CM Siddarmaiah loses his cool over BJP MLA in assembly; Here's why
Former Chief Minister Basavaraj Bommai praised the peaceful Ganpati celebrations at Ragigudda, highlighting the importance of Hindu culture. He urged law enforcement agencies to control and maintain peace among all communities.
Union Minister Prahlad Joshi attributed the current situation to Congress's appeasement politics, expressing concerns about the party's reluctance to allow Ganapati idols to be placed despite a Supreme Court ruling. Joshi criticized those who he believed were undermining the nation and called for unity among Hindus.
Last Updated Oct 8, 2023, 12:33 PM IST