BESCOM blames rodents for fatal electrocution of mother and child in Bengaluru
A tragic electrocution in Whitefield, Bengaluru claimed the lives of a mother and child after they inadvertently stepped on a live wire. Five BESCOM officers were arrested and then released, sparking community outrage over alleged negligence. The incident left the area in mourning as the grieving family prepared for the funeral rites of the deceased.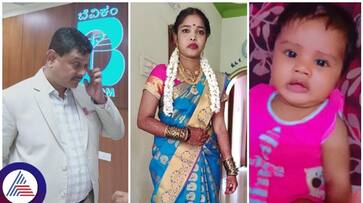 Tragedy struck in Whitefield, Bengaluru, resulting in the untimely demise of a mother and her child after they accidentally stepped on an electric wire during the early hours of Sunday. The incident led to the arrest of five BESCOM (Bangalore Electricity Supply Company) officers, yet they were released from custody prior to the funeral of the deceased.
The Managing Director of BESCOM, Mahantesh Baragi, claimed that rodents were the culprits behind the unfortunate incident that claimed the lives of the mother and child. Baragi stated to Asianet Suvarna News that a rodent had intruded into the transformer farm near Ofarm Road, causing the wire to snap and fall apart.

Bengaluru: Release of accused BESCOM officials before victim cremations sparks outrage
The wire had been disconnected from 3 am to 4.50 am, only to be reconnected for power transmission around 5 am. It was during this time that the mother, disembarking from a bus and walking along the same road, inadvertently stepped on the live wire, resulting in the tragic electrocution of both her and the 9-month-old child she was carrying.

Former Karnataka CM HD Kumaraswamy settles electricity theft allegations, questions exorbitant fine by BESCOM
The incident, which shook the entire Bengaluru community, occurred early on a Sunday morning in Whitefield. The family, travelling through the area, fell victim to the apparent negligence of BESCOM officials. The mother, who hailed from Tamil Nadu, had embarked on a journey with her husband and child. Upon reaching Whitefield on Saturday, tragedy struck the following morning as she alighted from a bus, holding her husband and 9-month-old baby. Accidentally treading upon the damaged wire on the footpath, the mother and child succumbed to the electric shock, resulting in their tragic demise and severe burns.
Amidst growing local outrage over the tragic incident, the Kadugodi police took action and apprehended five BESCOM officials implicated in the electrocution deaths of the mother and child. However, these officials held responsible for negligence, were subsequently released from custody before the funeral rites for the deceased. 
Last Updated Nov 21, 2023, 4:08 PM IST