Bengaluru: MP Tejasvi Surya says to conduct Yellow Line metro trial test in November
MP Tejasvi Surya expressed concerns over delays in the Bommasandra to RV Road Metro Yellow Line project in Bengaluru, originally set for 2021 completion. 95% of civil work in 15 stations is done, with plans for parking facilities. Trial tests are scheduled for November, with potential future expansion to the state border. Jayadeva station, Asia's largest, is 75% complete.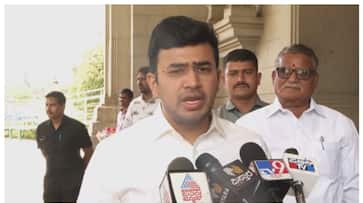 MP Tejasvi Surya has expressed concerns over the repeated delays in the construction of the Bommasandra to RV Road Metro Yellow Line in Bengaluru. During an inspection of the project's progress at the Bommasandra Metro Railway Station, he spoke to reporters. He emphasized the importance of swiftly completing the work on this vital transportation lifeline.
The Bommasandra to RV Road Metro Line spans 18 kilometres and includes 16 metro stations. Originally scheduled to be completed in 2021, the project has faced setbacks due to issues such as land acquisition, legal disputes, and the COVID-19 pandemic. Officials had previously announced a completion date of February 2024.

Bengaluru 'Yellow line' metro should start by Feb 2024: MP Tejasvi Surya
During his inspection, he found that 95% of the civil work in 15 of the 16 metro stations along the route was already complete. Minor tasks remained to be finished, and officials assured that these would be expedited. Notably, both Bommasandra and Electronic City lacked parking facilities, but plans were in place to establish separate parking systems, which will be discussed with higher-level officials.

BJP MP Tejasvi Surya urges govt to reconsider ban on carpooling in Bengaluru
Officials also revealed that preparations were underway for trial tests in November. A contract with the Titagarh company has been secured to provide two trains for the metro line.
Addressing the public's concerns regarding project delays, MP Tejaswi Surya mentioned that authorities had indicated the intention to extend the metro line up to the state border in the near future. The Jayadeva metro station along the Yellow Line metro is regarded to be the biggest metro station in Asia. MP reported that 75% of the work on this ambitious project had already been completed, with the remaining 25% progressing steadily.
Last Updated Oct 7, 2023, 9:04 AM IST