BJP MP Tejasvi Surya urges govt to reconsider ban on carpooling in Bengaluru
The Karnataka government's ban on carpooling has sparked a debate in the state. BJP MP Tejasvi Surya has urged Chief Minister Siddaramaiah to reconsider, citing Bengaluru's traffic problems and the need for innovative solutions to ease congestion.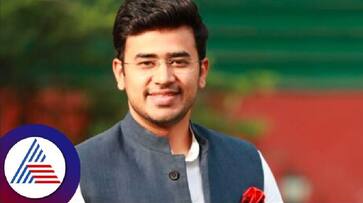 A recent decision by the Karnataka government to ban carpooling has ignited a debate in the state. Under the new orders, violators could face fines ranging from Rs. 5,000 to Rs. 10,000. The move to ban carpooling comes as authorities have noticed that vehicles registered for personal use with lower taxes are being used for commercial purposes, such as ride-sharing or carpooling.
BJP MP Tejasvi Surya has addressed this issue by penning a letter to Karnataka Chief Minister Siddaramaiah, urging the reconsideration of the carpooling ban. Surya emphasized that Bengaluru is grappling with severe traffic problems and highlighted the inadequacy of the city's current public transportation facilities. He pointed out that the BMTC, which has been operating 4,500 buses for some years, has now increased its fleet to 6,763.

Bengaluru: Scamster poses as BJP MP Tejasvi Surya, demands diamonds and money from Gujarat leader

However, even this expansion falls short of meeting the transportation needs of the city's 1.10 crore residents. Surya believes that ride-sharing and carpooling could offer an immediate solution, especially for employees commuting to the same IT park.

Carpooling is illegal: Karnataka Transport Dept fines Rs 10000 for violations in Bengaluru
In his open letter to Chief Minister Siddaramaiah, Tejasvi Surya called for amendments to the Karnataka Motor Vehicle Rules, 1989, asserting that they are outdated and inadequate for the present-day requirements. He argued that banning carpooling will only contribute to the congestion woes of Bengaluru, a city already grappling with a 6,000% increase in vehicular population since 1990. The ban, according to Surya, will only exacerbate the mobility crisis in the city.
Surya urged the Karnataka government to prioritize the "Quality of Life" for its citizens over outdated rules and to encourage innovation among ridesharing apps as a means to decongest the city's roads. The debate over carpooling regulations in Karnataka continues as stakeholders weigh the benefits of ride-sharing against traffic congestion.
Last Updated Oct 2, 2023, 1:21 PM IST