'High Command will decide...' CM Siddaramaiah on '3 DyCMs' idea floated by minister
In remarks that could spark political turmoil in Karnataka, Minister KN Rajanna has advocated for the appointment of three Deputy Chief Ministers in the state. However, Chief Minister Siddaramaiah has made it clear that the final decision rests firmly in the hands of the Congress party's High Command.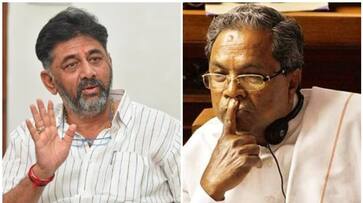 Minister Rajanna expressed his view on the matter but emphasized that the final say should come from the party's central leadership. He maintained that Chief Minister Siddaramaiah is inclined to follow the High Command's directives.
#StopHindiImposition: Kannadigas start Twitter campaign against 'imposition of Hindi language'
Notably, Rajanna, known for his unwavering loyalty to Chief Minister Siddaramaiah, has stirred the political pot by advocating for the appointment of three Deputy Chief Ministers in Karnataka. Observers speculate that this move may be a strategic bid by Siddaramaiah's camp to maintain a delicate power balance within the party.
This development unfolds against the backdrop of Deputy CM DK Shivakumar's growing influence, particularly within the Vokkaliga community. Shivakumar's rising prominence has the potential to challenge Siddaramaiah's political aspirations, including a potential bid for the Chief Minister's post.
In response to a media person's query regarding Cooperation Minister Rajanna's intention to write a letter to the party's High Command regarding the need for three DyCMs, CM Siddaramaiah said that the high command has decreed that one Deputy Chief Minister will be adequate.
He made it clear that the ultimate decision regarding the number of Deputy Chief Ministers to be appointed will rest with the high command, and that he is committed to faithfully abide by their decision, distancing himself from the proposal.
Karnataka: 'State BJP stands reason for Cauvery Injustice,' says DyCM DK Shivakumar
Karnataka Launches 'Arogya Mitra' Health ATM Scheme
In another significant development, the state witnessed the launch of its first 'Arogya Mitra' health ATM scheme in Kalaburagi. Chief Minister Siddaramaiah inaugurated the scheme, marking a pioneering step in healthcare accessibility for the people of Karnataka. 
HP Enterprises, under CSR grants, procured 25 health ATM units, which were inaugurated on the occasion of Kalyana Karnataka Utsav Day. These health ATMs will operate at 25 selected locations, including wellness centers, offering quick and easy health checkups.
The 'Arogya Mitra' health ATM is a groundbreaking innovation in the healthcare sector, offering primary and preventive healthcare services conveniently and affordably. It promises to save both time and money by expediting medical tests, catering to the urban population's fast-paced lifestyle. Moreover, it holds the potential to extend healthcare services to previously inaccessible areas, a valuable resource in the face of healthcare personnel shortages.
Last Updated Sep 18, 2023, 12:33 PM IST