Why doesn't Modi say 'Allah-u-Akbar'? asks Azam Khan
The PM said 'Jai Shree Ram' in a Dussehra function in Lucknow.
Since then, various Muslim leaders have criticised the PM.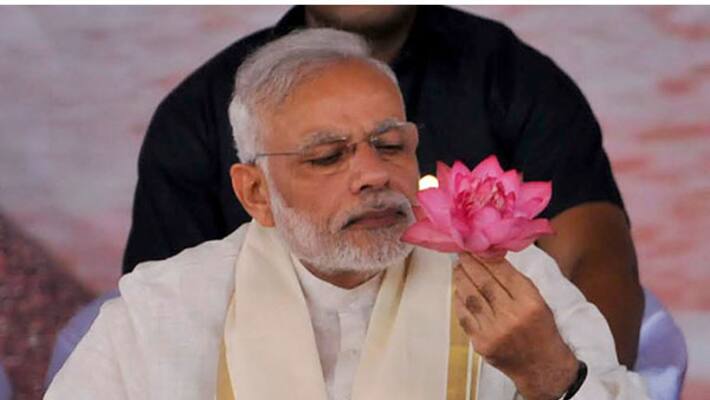 Speaking in Bareilly, Uttar Pradesh minister Azam Khan has criticised Prime Minister Narendra Modi for raising 'Jai Shree Ram' slogan at the Dussehra function, saying that the PM belonged to the nation and should have raised slogans of all religions.
    
"He belongs to all...he should also have raised Allah-u-Akbar, Waheguru ji ka Khalsa ....," Khan told reporters here last night.
    
Modi in his address at the Dussehra function in Lucknow had started his speech with 'Jai Shree Ram' slogan.
    
Taking exception to Modi's stance on 'triple talaq', Khan said that he will not allow any injustice to Muslim women but "how talaq has to be given, how marriages will be conducted and how namaz has to be offered, are matter which will be decided as per the Personal law".
    
He also opposed BJP's move to build a Ramayana museum in Ayodhya. 

AIMIM president Asaduddin Owaisi also slammed PM Modi for raising "religious" slogans, as he alleged that the BJP-led government's real intention was to "convert India into a Hindu rashtra".
    
"He (Modi) is the first Prime Minister since independence to use 'religious' slogans during a public rally...India had seen so many PMs and will see many more, but no Prime Minister- has ever raised a religious slogan," the Hyderabad Lok Sabha MP said while referring to Modi's 'Jai Shri Ram' greeting on Dussehra in Lucknow.
    
"All Indians think for a while, if anyone wearing a skull cap and sporting beard becomes PM and says 'Allah-o-Akbar', all channels will run (news) that India has become an Islamic country. (But) If Modi raises 'majahabi' (religious) slogan, no one will say anything," he said.
    
Continuing his tirade, Owaisi said, "Aapka asal maksad ye hain ki Hindustan to Hindu Rashtra me tabdil kiya jaye. (Your real intention is to convert India into Hindu nation)."
    
"If you really believe in secularism...why did you Mr Modi impose beef ban in Maharashtra and why does your government want to construct a museum in the name of Ram in Ayodhya? Then why do you (government) say state has no religion and the country has no religion?," he asked.
Last Updated Mar 31, 2018, 6:55 PM IST