'What has new father of nation done?' Nitish Kumar takes dig at PM Modi, reacts to remark by Fadnavis' wife
Referencing the remark made by Amruta Fadnavis, wife of Maharashtra Deputy Chief Minister Devendra Fadnavis, in December, Kumar asked what the "'new father' of 'new India' done for the nation?"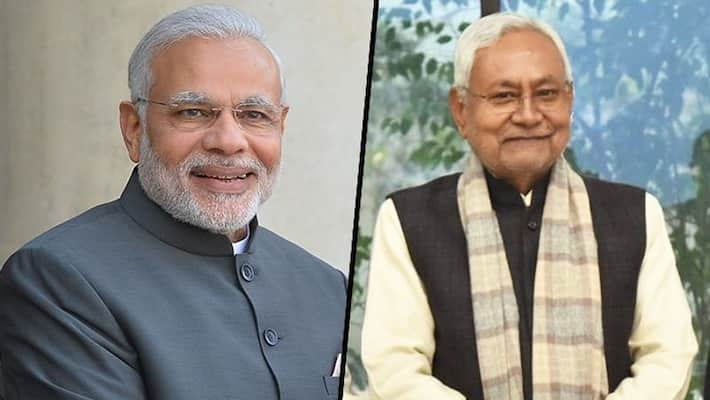 Bihar Chief Minister Nitish Kumar on Saturday criticised Prime Minister Narendra Modi on Saturday after he was referred to as "the father of the nation" and questioned what the "new father" had accomplished for India.
"New father of new nation, but what have you done for the nation? Has anything significant be done? How has India progressed? The only thing that has happened is that new technology has been developed," Kumar said at an event, ANI reported.
Amruta Fadnavis, the wife of Maharashtra's deputy chief minister Devendra Fadnavis, made a remark in which she referred to Modi as the father of the "new India," to which Kumar responded.
Also Read | 'Have a great 2023...' PM Modi, Prez Murmu, other leaders greet nation on New Year
Nitish also said that the contributions of Mahatma Gandhi, referred to as the father of the nation, are unparalleled and unforgettable.
"What have they done for independence? The RSS had no contribution in the fight for freedom. My father took part in the independence struggle. And even though I was born after the colonial rule ended, but we got to understand everything," he added.
On December 21, Amruta Fadnavis had stated before, "There are two national dads in India. One was for the old India, and the other was for the new India. In my opinion, Prime Minister Narendra Modi is the "Father of the Nation" of the "new India," whereas Mahatma Gandhi is the "Father of the Nation" of India."
Also Read | 'Light of hope is right in front of us...' Xi Jinping's New Year address amid surge in COVID cases
Retorting to the remark, Maharashtra Congress President Nana Patole said that Mahatma Gandhi cannot be compared with anyone and took a jibe at the BJP's "new India."
Senior Congress leader Pramod Tiwari also hit out at the remarks made by the wife of the state's deputy chief minister. "There can be two fathers in BJP but not in the country. There'll be only one Father of Nation..." Tiwari said.
Also Read | Happy New Year 2023: Check out how Google Doodle welcomes new year in a special way
Last Updated Jan 1, 2023, 11:50 AM IST