WATCH: WTO's Director General Ngozi Okonjo-Iweala asks PM Modi for an autograph on his book Modi@20
At the G20 Summit 2023, WTO Director General Ngozi Okonjo-Iweala requested Prime Minister Narendra Modi's autograph on his book "Modi@20," creating a heartwarming moment during her visit to India.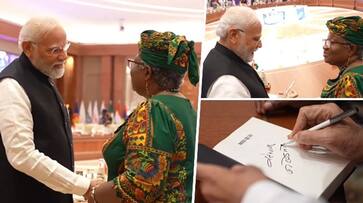 At the recently concluded G20 Summit 2023, the Director General of the World Trade Organization (WTO), Ngozi Okonjo-Iweala, had a noteworthy encounter with Prime Minister Narendra Modi. During their meeting, she made a unique request, asking the Prime Minister for his autograph on his book, "Modi@20." In a heartwarming moment captured on video and now widely circulated on X (formerly Twitter), the WTO Director General engaged in a conversation with PM Modi before he graciously autographed the book for her.
Ngozi Okonjo-Iweala arrived in New Delhi on Thursday night to participate in the G20 Summit 2023. It is noteworthy that India has been a member of the WTO since 1995 and a participant in the General Agreement on Tariffs and Trade (GATT) since 1948.
In August of the same year, India and the United States mutually resolved two separate disputes at the WTO, involving certain measures related to steel and aluminium products, as well as additional duties on specific US products. This resolution was in accordance with the commitment made by the two leaders, Prime Minister Modi and US President Joe Biden, during the Prime Minister's state visit to the United States.
India assumed the G20 Presidency on December 11th the previous year, and approximately 200 meetings related to the G20 were organized in 60 cities across the country. On Sunday, Prime Minister Modi announced the conclusion of the G20 Summit and proposed hosting a virtual G20 session in November to review the suggestions and proposals presented at this prominent forum for international economic cooperation. The G20 leaders had adopted the New Delhi Declaration on the summit's first day, Saturday.
Prior to concluding the summit, Prime Minister Modi ceremonially handed over the Group of G20 presidency's gavel to Brazil's President, Luiz Inacio Lula da Silva.
Last Updated Sep 11, 2023, 12:44 PM IST