WATCH: Father breaks stereotypes with joyful 'Baraat' for daughter after her divorce; internet lauds him
The article discusses a unique and heartwarming instance in India where a father organized a celebratory 'baraat' for his daughter following her divorce, emphasising the importance of supporting and respecting daughters in difficult circumstances.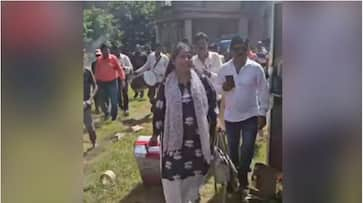 In India, weddings are vibrant and festive celebrations filled with colour, music, and happiness. Whether a couple opts for an extravagant or a more modest ceremony, these multi-day events are steeped in rituals and traditions, creating a truly unforgettable experience. Among these traditions, the "baraat" stands out as a key highlight in most North-Indian weddings. It's a celebratory procession for the groom, featuring live music and dancing, symbolising the excitement and joy of embarking on a new life journey together. However, in contrast to these joyous celebrations, divorces are often associated with sadness.
Recently, a remarkable incident challenged these norms when a father organised a 'baraat' for his daughter as she returned home after her divorce. In a powerful act of support, the father emphasised the importance of treating his daughter with dignity and respect, especially when her in-laws had acted unjustly. The heartwarming video of this unconventional 'baraat' was shared by the father, Prem Gupta, on Facebook.
In his post, he wrote, "When your daughter's marriage is done with great pomp and show and if the spouse and family turns out to be wrong or does wrong things then you should bring your daughter back to your home with respect and honour because daughters are very precious."
The video captures the joyous scene as the woman's family members enthusiastically accompany her, igniting fireworks, clapping hands, and even sharing warm embraces. The entire family marches through the streets, mirroring the exuberance of a traditional 'baraat.'
Since its sharing, the video has garnered significant attention, amassing over 12,000 views and 228 likes on Facebook. Users have flooded the comments with admiration for the father's actions and messages of support for the daughter's new beginning. One user congratulated the family, while another saluted the father for his extraordinary gesture. Others expressed their pride and approval, with some suggesting that this act should serve as an example for others to follow in similar situations.
"Loved the fatherly spirit, awesome. Salute to the great father. Its absolute bezzati to the hopeless in-laws. Many best wishes for the daughter for a new beginning," wrote one user on Facebook.
Another added, "Proud of you," while a third user stated, "Everyone should follow the same."
Last Updated Oct 22, 2023, 11:39 AM IST