Viral Video: Forest Officer in Arunachal Pradesh receives praise for dealing with heavily armed 'hunters'
The undated video shared by IFS officer Parveen Kaswan on Twitter shows an unarmed Pasighat RFO Jumgo Geiyi trying to reason with heavily-armed gunmen against resorting to the mindless killing of animals inside th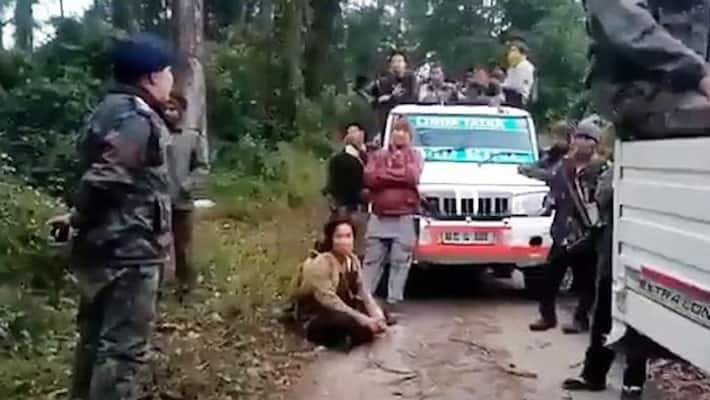 Social media is abuzz with the video of a Range Forest Officer, who is seen trying to convince a group of heavily-armed people -- believed to be hunters -- against targetting wildlife for pleasure at Pasighat in Arunachal Pradesh's East Siang district. The undated video shared by IFS officer Parveen Kaswan on Twitter shows an unarmed Pasighat RFO Jumgo Geiyi trying to reason with heavily-armed gunmen against resorting to the mindless killing of animals inside the forest.
Also Read: SpiceJet passenger arrested after 'misbehaving' with female cabin crew
He is heard saying, "Don't help us if you do not want to, but do not put yourself in trouble. Nobody will come to protect you from the law. There is no need for grandstanding. I would have understood if you entered the forest with your traditional weapons and said that you were protecting your tradition. But using guns was never in your tradition." 
He further said, "You look like Taliban, armed with guns. You look like you are going to fight a war. An animal which cannot fend for itself... why show 'dadagiri' by killing it? Even animals have their younglings. If someone kills your children or your parents, how would you feel? It's the same with animals. Some of you don't even kill animals to eat but rather for enjoyment. It's not as if you are not getting anything to eat. The markets are well-stocked. What is the need to break the law?"
The video is being widely shared by social media users, most of whom complimented the officer for standing up to armed gunmen. "The courage to stand up to such a group and articulate clearly is a commendable effort," said one user.
"Real power is knowing when to use it. This officer demonstrates an age-old approach of 'Saama Daama Dand Bheda'. Persuasion at its best. Proud of him," said another user.
At the same time, some wondered how the 'locals' were armed with sophisticated weapons. A user said, "The officer has the courage to stop hunting. I am amazed at how these so-called locals are carrying sophisticated weapons. Are these members of ULFA or NSCN-IM? This looks like something more serious than reckless hunting!"
Also Read: Out on parole, Dera Sacha Sauda chief Gurmeet Ram Rahim cuts cake with sword
Last Updated Jan 24, 2023, 1:19 PM IST