Uttarkashi Tunnel Collapse: Communication established with trapped workers; ops continue
Rescue teams, including the Border Roads Organisation and ITBP, are using excavators and drilling equipment to clear debris and reach the trapped laborers, ensuring their safety with provided oxygen cylinders.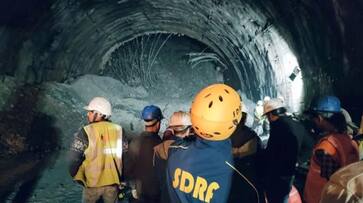 A collaborative effort involving multiple agencies is underway to rescue 40 workers who have been trapped inside a tunnel in Uttarakhand since Sunday morning. The tunnel, part of the Brahmakhal-Yamunotri National Highway construction in Uttarkashi district, suffered a partial collapse around 5 am on Sunday. The National Disaster Response Force (NDRF), State Disaster Relief Force (SDRF), and the police are leading the rescue operations.
Officials reported that the collapsed section, situated approximately 200 meters from the entrance, has seen about 20 meters of the slab removed so far to facilitate tunnel access. Excavators and heavy machinery are being employed to clear the debris as part of the ongoing rescue efforts.
Constructed by the Hydroelectricity Investment and Development Company Limited under the Char Dham Road Project, the tunnel aims to connect Silkyara to Dandalgaon in Uttarakhand's Uttarkashi, ultimately reducing the travel distance from Uttarkashi to Yamunotri Dham by 26 kilometres.
Approximately 160 rescuers, equipped with drilling tools and JCBs, are striving to reach the trapped labourers. Teams from the Border Roads Organisation and ITBP, led by Commanding Officer Naman Narula and Assistant Commandant Jadhav Vaibhav, have also joined the rescue operation. 
According to officials, mucking work using loaders and excavators is in progress, and the trapped individuals are reported to be safe. Oxygen cylinders have been provided to ensure the trapped labourers can breathe without difficulty during the rescue operation.
Last Updated Nov 13, 2023, 9:10 AM IST