Successful G20 Summit 2023: PM Modi likely to host dinner for Delhi Police officers at Bharat Mandpam
Prime Minister Narendra Modi reportedly plans to host a dinner to recognize and appreciate the contributions of Delhi Police personnel who played a crucial role in the successful execution of the G20 Summit 2023.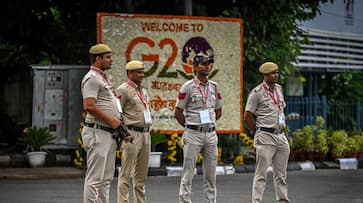 Prime Minister Narendra Modi is reportedly taking steps to acknowledge and appreciate the efforts of those involved in the successful execution of the G20 Summit 2023. According to a NDTV report, PM Modi is now set to host a dinner for Delhi Police personnel this week, aiming to recognize their invaluable contributions for the mega event that took place on September 9-10.
Delhi Police Commissioner Sanjay Arora has reportedly requested a comprehensive list of outstanding individuals from each district within the police force, spanning from constables to inspectors, who played a pivotal role during the summit held last weekend.
As per the report, approximately 450 exceptional personnel identified from this list, including Commissioner Sanjay Arora, are expected to have dinner with Prime Minister Modi at Bharat Mandapam, the venue that hosted the G20 Summit. This gesture echoes PM Modi's prior instances of acknowledging individuals' efforts in major achievements, such as his felicitation of the laborers involved in constructing the new Parliament Building in May.
Earlier this week, Commissioner Sanjay Arora recognized select Delhi Police personnel for their commendable contributions to the G20 Summit, presenting them with the Commissioner of Police's special commendation disc and certificate. The official order, dated September 11, highlighted the remarkable teamwork and dedication displayed by the entire Delhi Police force, emphasizing their crucial role in the successful execution of the massive G20 arrangements.
The Delhi Police faced a daunting task, both in the lead-up to and during the summit, as it marked the largest gathering of world leaders in recent memory within India. Ensuring the utmost security and confidentiality, the Special Protection Group and Delhi Police personnel employed code words for the hotels housing the leaders and their delegations.
For instance, the ITC Maurya Sheraton, where US President Joe Biden resided, was referred to as 'Pandora,' while 'Samara' denoted the Shangri-La Hotel, where UK Prime Minister Rishi Sunak and his spouse, Akshata Murthy, stayed during the summit. Additionally, code words were used for locations visited by the leaders, with Rajghat being 'Rudpur' and Pragati Maidan, the summit's venue, being referred to as 'Niketan.'
Last Updated Sep 13, 2023, 2:24 PM IST