Situation in Manipur still volatile; mobs ransack police posts, cop killed
The situation in Manipur has become increasingly unstable with reports of violence in various locations. The Indian Army and Rapid Action Force had to use tear gas shells to suppress clashes in the Bishnupur district. At least 1050 people have been detained in connection with the unrest.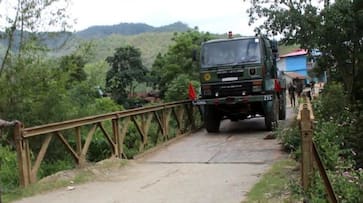 Manipur once again finds itself in a state of turmoil as incidents of violence have erupted in multiple areas in the last 24 hours. The Indian Army and Rapid Action Force units had to resort to using tear gas shells in the Kangvai and the Phougakchao regions of the Bishnupur district to quell the clashes. Overall, at least 1050 individuals have been detained across violence-affected Manipur.
On Thursday, mobs consisting of both men and women targeted security posts in the Bishnupur district, ransacking at least two of them. The Keirenphabi Police outpost and Thangalawai Police outpost of the Manipur Armed Police second battalion were looted for their weapons. The mob also attempted to seize arms and ammunition from Heingang and Singjamei police stations, but the security forces successfully repelled their attack.
Media reports mentioned that Haraothel, Senjam Chirang, and Koutruk areas witnessed clashes between the warring factions, leading to the loss of life of a Manipur policeman, while another personnel was injured in the crossfire and remains hospitalized. In the Phougakchao Ikhai, at the border of the Bishnupur and the Churachandpur districts, a large crowd of 500-600 people gathered. Security forces used tear gas shells to disperse the mob, resulting in approximately 25 people sustaining minor injuries.
The situation in the state remains tense, with sporadic incidents of firing and unruly mob gatherings in various locations, as stated by the police. A planned mass burial of Kuki-Zomi people killed in the violence faced a setback when the High Court ordered the preservation of the proposed burial site in the Churachandpur district. The ITLF, an apex tribal body, decided to postpone the burial of 35 individuals at the Haolai Khopi village site.
In Bishnupur district, thousands of locals took to the streets to block the movement of security forces. Given the sudden escalation of violence, the district magistrates of Imphal East and Imphal West reinstated restrictions and withdrew curfew relaxations. As a precautionary measure, public movement has been restricted in the entire Imphal Valley in addition to the night curfew.
Last Updated Aug 4, 2023, 8:25 AM IST