Security breach at World Cup final: Pitch invader sporting 'Free Palestine' message hugs Virat Kohli (WATCH)
During the ODI World Cup 2023 final between India and Australia, a pitch invader,, sporting 'Free Palestine' t-shirt, breached the security at the Narendra Modi Stadium in Ahmedabad on Sunday.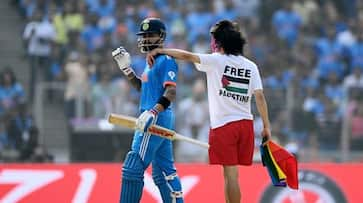 In a shocking and unprecedented turn of events at the ODI World Cup 2023 final between India and Australia at Narendra Modi Stadium in Ahmedabad, a pitch invader wearing a 'Free Palestine' shirt managed to breach security and not only invade the playing area but also hugged Indian batting icon Virat Kohli. The incident unfolded amid the high-stakes clash, leaving spectators, players, and officials stunned.
Also read: India vs Australia: IAF's Suryakiran team mesmerises with air show at World Cup final in Ahmedabad (WATCH)
The pitch invader's shirt prominently displayed the message 'Free Palestine,' indicating a potential political motive behind the intrusion. The individual successfully approached Virat Kohli, one of the most revered figures in international cricket, and hugged him before being apprehended by security personnel.
The incident not only raised concerns about the security arrangements at one of the world's largest cricket stadiums but also brought attention to the intersection of sports and socio-political issues. The 'Free Palestine' message on the invader's shirt suggests a connection to the ongoing Israel-Palestine conflict, turning a global spotlight on the issue during a major cricketing event.
In a swift response to the security breach, Ahmedabad police arrested the Palestine sympathizer. The arrest raises questions about how the pitch invader managed to reach the playing area, highlighting potential loopholes in the security protocols implemented for such high-profile events.
Social media platforms were flooded with videos and images of the unexpected intrusion, with fans expressing a range of emotions from shock to concern. The incident not only disrupted the flow of the game but also prompted discussions about the need for enhanced security measures to prevent similar occurrences in the future.
While the immediate focus returned to the cricket match after the intruder was removed and the game resumed, the aftermath of the incident is likely to involve a thorough review of security protocols for major sporting events. Authorities may consider tightening security measures to prevent unauthorized individuals from breaching the boundaries of the playing area.
Also read: Goosebumps! Over 1 lakh Indians unite for National Anthem at WC final in Ahmedabad (WATCH)
Last Updated Nov 19, 2023, 4:02 PM IST