Sandalwood's Kiccha Sudeep lauds television Nagini on Bigg Boss 7
Kannada Bigg Boss host Kiccha Sudeep lauds competitive Deepika Das's efforts in a task that bring out team from jaws of defeat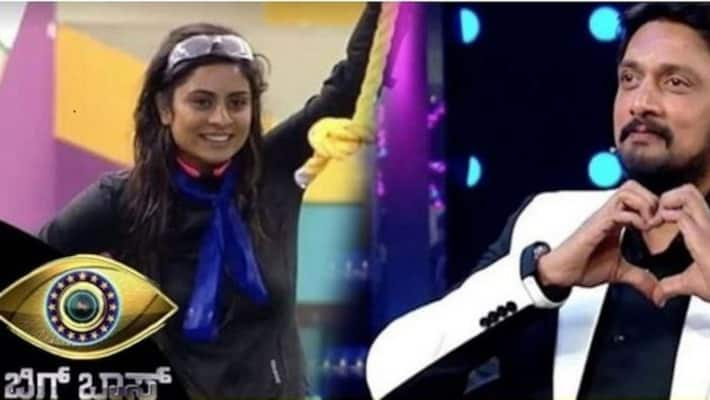 Bengaluru: Deepika Das fondly called Nagini has made a name for herself through her show. But she hasn't been able to capture the hearts of the audience of the reality show Bigg Boss. 
Deepika is always seen as a silent and reserved girl. She doesn't involve too much in gossip nor is she seen creating controversies in the Bigg Boss house. Most of her fans have been been anxious as they think the silent Deepika will be eliminated soon. But things have changed this week. 
Kiccha Sudeep's compliments have proved to be great for Deepika Das. Deepika's strength and commitment gained Sudeep's attention and he showered her with praises for her outstanding efforts during a task. 
During this week's luxury budget task captain Deepika formed a team called 'Sapthashwa'. Her commitment, dedication and participation during different tasks have earned the best captain term. Deepika has also been leading points earner during tasks.     
Deepika who is usually reserved and is all to herself was given a big responsibility and role to play this week. She was made the captain of the Bigg Boss house. This was one of the reasons why all cameras focused on her this week. 
Every week Kiccha Suddep lauds the efforts of the best contestant who gives their best and helps their team win. This time the compliment went to Nagini alias Deepika Das. Kiccha Sudeep applauded her efforts and 'never give up' attitude during the task this week. 
Her team was lagging behind in points throughout the task but one final task changed the whole scenario. Deepika sustained till the end and showed her determination. Deepika successfully pulled out her team from the jaws of defeat and tasted success. 
Well, Kannada Bigg Boss, usually related with controversies, is turning to be a good season for some contestants as it is bringing out the best in them. Last week the show helped Priyanka shed her negative image and this time Deepika Das revealed her inner strength.  
Last Updated Nov 10, 2019, 6:01 PM IST