Revealed: What led to the fall of Indian Army's intelligence wing after 2008 Mumbai attacks
Events after the Pakistan sponsored terrorists' attack on Mumbai in 2008 led to the fall of Indian Army's Intelligence wing. Here is an interesting read on how it was scrapped. The sequence of events is as detailed by a Twitter user, Sumona Chakraborty.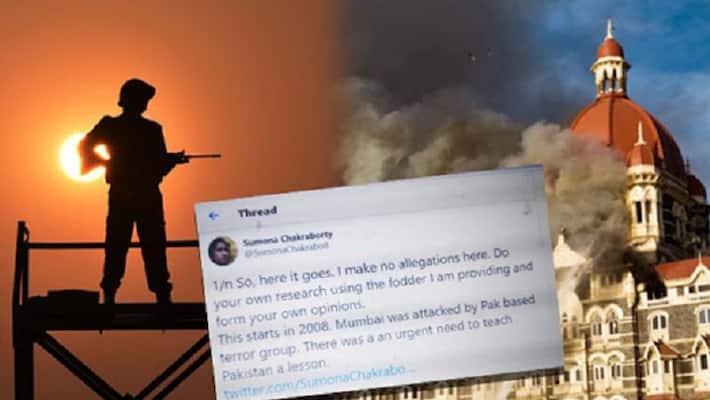 Bengaluru: Pakistan-sponsored terrorists carried out attacks in Mumbai in 2008. Deeply pained at what had happened, India wanted to take revenge. So, the then national security advisor MK Narayanan summoned all security and spy chiefs to understand if it was possible to retaliate in a befitting manner, by attacking Pakistan Occupied Kashmir (PoK). And as they answered in the negative, the then NSA asked them to raise a team in this regard.
Gen RK Loomba, Director General Military Intelligence, approached General VK Singh in 2010 and he countenanced the proposal. Loomba entrusted the job to Colonel Hunny Bakshi to raise and train such a unit. It was raised soon.
It had Colonel Bakshi, Colonel Vinay B, Sarvesh D among others who would form the Technical Supports Division (TSD).
TSD was highly successful in that it was able to create rift in Pak terror establishment. It carried out many covert operations including planting IEDs along LoC. It gave the ISI sleepless nights. It had more or less established peace in Jammu and Kashmir.
But as peace was restored, there were allegations put forth by General VK Singh that he had been approached and offered a bribe of Rs 14 crore for the procurement of trucks. He even complained to the then defence minister Antony, but Antony blamed him saying he did not pursue the matter.
Now, it was retired defence intelligence agency chief Tejinder Singh, who allegedly offered the bribe to VK Singh, tried to blackmail him and bribed a clerk named Shyam Das to get classified information from TSD. At this point in time, we have to talk about the role of paid media which began to hound VK Singh over his age.
The media also concentrated on levelling charges of snooping and bribes relating to Tatra trucks. In the meantime, Tejinder Singh barged into the premises of TSD, with alleged connivance of the defence ministry!
Noted journalist Shekar Gupta even went to the extent of saying the Indian Army was trying to overthrow the democratic government.
This news made politicians in the country very perturbed. Moreover, they were not happy with the way the TSD functioned, which was more secretive than the Research & Analysis Wing.
The TSD could tap phones at the borders. Maybe, this brought about fear by politicians thinking that they could be exposed easily.
So, a series of allegations followed.
1. It was alleged that TSD has used money to topple the J&K government led by Omar Abdullah.
It was alleged that TSD is destabilising the Omar Abdullah government.
2. It was alleged that the PIL against the next Army chief was filed by TSD. The PIL alleged that the 2001 encounter for which Bikram Singh was awarded gallantry medal was fake. The court dismissed it and cleared the way for Bikram singh to become Army Chief.
Who was trying to divide the army?
3. The Tatra truck bribing scandal also emerged. Till now it was between defence minister and VK singh. TSD also came under questioning after Tejinder Singh tried to trespass into its premises with an Indian Express reporter.
It's said a witch-hunt started against TSD officers including punishment postings.
It didn't stop there. An enquiry was held in which it was found that 8 operations were held by TSD in neighbouring countries. It was conducted by Lt General Vinod Bhatia. But it is strange as to how a section of his findings were reported to the media.
What such selective leaking did was that it gave Pakistan an opportunity to claim victimhood.
Eventually, the Army's Intelligence unit was scrapped.
Last Updated Apr 19, 2020, 7:04 PM IST