Re-elect Narendra Modi if you don't want India to become another Israel: Karnataka BJP MLA Yatnal
Vijayapur's MLA, Basangouda Patil Yatnal, has urged public support for the BJP and Prime Minister Narendra Modi in the upcoming Lok Sabha elections, emphasizing their role in preserving the Indian Constitution and Sanatan Dharma. Yatnal discussed historical religious unity and expressed optimism regarding a legal resolution for Raghav Chaitanya Lingam.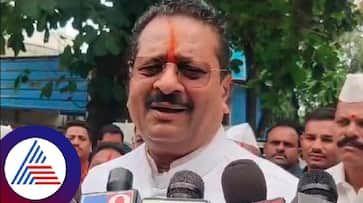 Vijayapur's MLA, Basangouda Patil Yatnal, has called on the public to back the Bharatiya Janata Party (BJP) under Prime Minister Narendra Modi's leadership in the upcoming Lok Sabha elections. Yatnal emphasized that the BJP's victory is crucial for preserving the Indian Constitution and the enduring legacy of Sanatan Dharma.
During his participation in a procession and Shobha Yatra honouring Hindu Mahaganapati in the town, Yatnal discussed the historical context of religious unity in India. He referred to Dr. B.R. Ambedkar's view that there was no brotherhood in Islam and mentioned Ambedkar's proposal for Indian Muslims to move to Pakistan and bring Hindus from Pakistan to India, which he foresaw in 1942.

No one can destroy Sanatana Dharma: BJP MLA Basanagouda Patil Yatnal
Yatnal also touched on the political history between Ambedkar and the Indian National Congress, highlighting the lack of recognition for Ambedkar's contributions by the Congress. Instead, he pointed out that the Congress had awarded leaders like Nehru, Indira Gandhi, and Rajiv Gandhi, leading to criticism from their political opponents.

Karnataka MLA Yatnal's appeal calls to boycott films of actors ignoring Cauvery issue
Addressing discontent within the state Congress government, Yatnal emphasized that it extends beyond caste considerations. He noted that the Veerashaiva Mahasabha had not extended an invitation to the Lingayat community, suggesting that it is controlled by a select few families. Yatnal emphasized the ongoing struggle for reservations for Lingayats and the significant support it had garnered within the community.
Yatnal concluded by expressing optimism regarding the resolution of the situation involving Raghav Chaitanya Lingam. He believed that, similar to the construction of the Ram Mandir in Ayodhya, the police would soon secure the freedom of Raghav Chaitanya Lingam. This legal victory would declare it a place for Hindus.
Last Updated Oct 11, 2023, 2:34 PM IST