Rajasthan political crisis: Sachin Pilot meets Rahul, Priyanka Gandhi
As the Assembly Session in Rajasthan nears, Congress is confident that it could solve the crisis in Rajasthan. On Monday, Sachin Pilot met Rahul Gandhi and Priyanka Gandhi. The party has asked the former deputy CM of Rajasthan to be patient and make a few adjustments.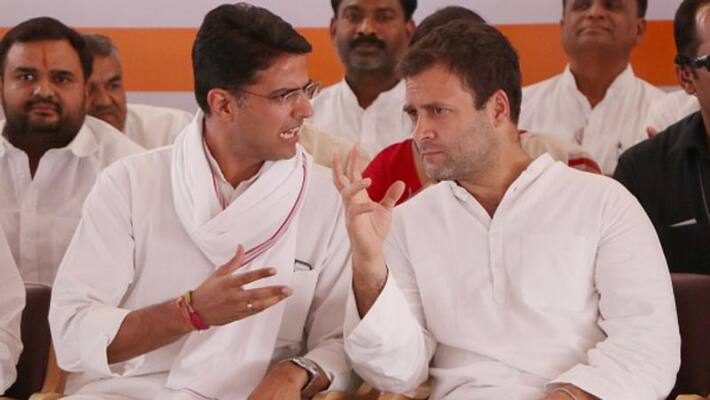 Jaipur: The Assembly Session starts on 14 August in Rajasthan. Political manoeuvring has gathered steam before the session. On Monday, Sachin Pilot met Rahul Gandhi and Priyanka Gandhi in Delhi. The meeting lasted for about 90 minutes.
A formula to bring Pilot back in Congress in being thought upon. But the party has cleared that for the time being there will be no talk on the chief minister's position in Rajasthan. If Pilot wants to return to the party, then he has to patiently wait for some time and make adjustments.
The two adjustments:
1.       Sachin Pilot could come to Delhi and could shoulder some responsibility in the party
2.       Some minister from the Pilot's faction could be made Rajasthan's deputy chief minister.
According to sources, the initiative to meet Rahul was made by the party high command. The sources further added that the ministers of the Pilot faction have constantly said that their resentment is not with the party but with CM Ashok Gehlot. Some ministers have said, as per an ANI report that Sachin Pilot is constantly in touch with the party leadership. According to them, the party is confident that it will be able to resolve the crisis in Rajasthan.
3 Reasons for Reconciliation
1.       The Special Operation Group (SOG) which was investigating the case of horse trading of MLAs has submitted its final report.
2.       Legislators are relieved by the withdrawal of charges of sedition.
3.       Chief Minister Ashok Gehlot had indicated in the legislature party meeting that he would accept the party high command's decision.
Amid this, the BJP has called for a meeting of its MLAs on 11 August. The meeting will take place on Tuesday at 4 pm at Jaipur's Crown Plaza hotel.
Ashok Gehlot on Sunday had written an emotional letter to the MLAs requesting them to not be part to the conspiracy to topple the government. He had asked them to follow their conscience. Few hours after writing the letter, Gehlot reached Jaisalmer. Gehlot said that there has been a conflict with the BJP MLAs, and they have been taken to three-four different locations.
Last Updated Aug 10, 2020, 8:11 PM IST