Rajasthan CM Ashok Gehlot accuses BJP of making 3rd attempt to topple government
Chief minister Ashok Gehlot has again accused the BJP of trying to topple his government in Rajasthan.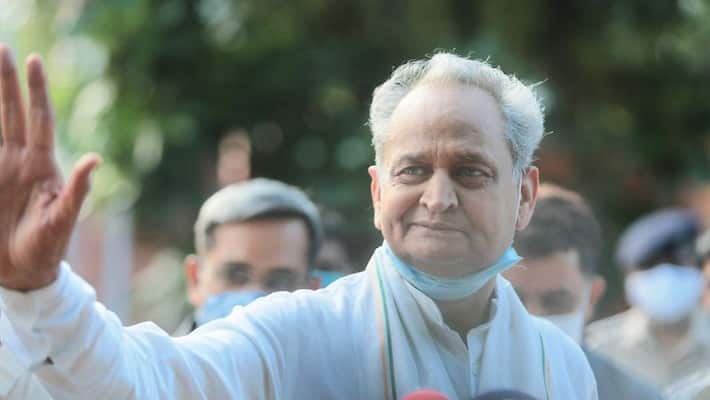 Jaipur: Rajasthan chief minister Ashok Gehlot, who celebrated Raksha Bandhan with his MLAs in a hotel in Jaisalmer, returned to Jaipur on Monday evening (August 3).
Gehlot made a big statement upon his return to the state capital. He said that there were two previous attempts to topple his government and soon there will be the third attempt as well. The MLAs are still receiving calls. Many ministers including three Union ministers are involved in the political game to topple his government, he claimed.
Attacking the Union minister Gajendra Singh Shekhawat, he said, "I had accused them, but still they were quiet. They were the newly become MPs at the Centre and were soon made ministers. Now, no matter how much the party cares about them, people won't accept them. They are trapped in the Sanjivani Credit Cooperative Society scam and are now involved in the plan to topple the state government."
Gehlot added that everyone is scared about the raids from ED, CBI, and the Income Tax department. Till when will the people tolerate? They will be forced to come on the streets, he said. Gehlot added that he doesn't want to instigate the public. But the public is full of rage.
The BJP should understand and stop the politics and the elected government do its work. The MLAs who have gone to Jaisalmer, in their constituencies work, had continued and there were no complaints, he said.
Hearing on three petitions in the high court today (August 4)
1. The matter of horse-trading of MLAs: The petition of MLA Bhanwarlal Sharma from the Sachin Pilot group will be heard for cancellation of the FIR lodged by SOG in the case of MLAs
2. A petition challenging the governor not convening Assembly session: Hearing on PIL related to the governor not convening Assembly session. However, the governor has now called a session on August 14.
3. Petition on withholding salary and allowances of MLAs
SOG unable to find Pilot camp MLAs in 20 days, called back from Haryana
The Special Operation Group (SOG) team has been unable to find the MLAs of Sachin Pilot camp for 20 days now. The team has been called back from Haryana.
The team could be sent back after a day or two. The SOG is searching for Bhanwarlal and other MLAs from the Pilot camp. On being unsuccessful, officers were changed three times but every time the team returned empty-handed.  The team was first sent under IPS officer Vikas Sharma. After one week, the team was called back and again sent this time under IPS officer Kamal Singh. After one week, he too was called back and the team was again sent and this time under IPS officer Neeraj Pathak. The team was called back on Sunday.
Last Updated Aug 4, 2020, 12:10 PM IST